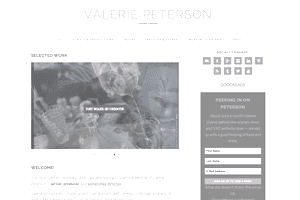 The elements of an effective author website help the site fulfill its purpose as an easy-to-navigate online location where readers, periodical editors and publicists can quickly and easily find out more about the author and his or her books. 
No matter how cleverly designed the site it, in order to be effective, there are a number of conventional elements that need to be included ​on the site.
Elements of Your Author Website
"Home"
The homepage is the most important page of your writer's website, as many in the short-attention-span audience of web surfers won't get any farther.
For this reason, your homepage should clearly highlight ("above the fold," if possible):
Your latest and greatest book project.
"Buy the book" links to major booksellers and independents such as bn.com, amazon.com, IndieBound, Powell's, etc.
Your social media links, so anyone who is inclined to follow you sees them quickly. Read more about social media practices and Twitter for authors. If you're active on social media (and you should be), it's great to have a feed one or more of your social streams. This keeps your homepage always looking fresh and current. 
Clear navigation to the other areas of your site (see below).
"About"
Your biographical data should go here; remember to keep it pithy, interesting and relevant to your book or books. Include your author portrait or another, flattering and friendly picture of yourself.

"My Book/s"
Depending on the nature of your work and books, you may want more than one page or section for your book and your other writing.
In any event, this area should include:
General information about the book, such as jacket photos, flap copy or other brief book description.
Promotional information about the book, such as book blurbs, favorable reviews, and "Buy the book" links.
Optional information about the book, such as excerpts, reading group guide, etc.
"Tour" or "Appearances" or "Calendar" or "Updates"
Whatever you choose to call it, basically, there should be an area on your author website that details your (or your book's) latest doings—readings, signings, blog tour, radio interviews, etc. These should include dates, times, and locations, with links to travel directions or taped interviews, if applicable.

"Contact"
This area should include details on how you'd prefer to be contacted. Remember your audience might be anyone from a freelance writer looking for a quote based on your expertise to a random internet surfer who has a question about publishing a book. Your contact info can range from arm's length (links to your Twitter feed, your publicist, your agent, or a general "info@" mailbox) to direct ("Email me at...").
Many Authors Also Choose to Include:
A "Blog"
Even authors who haven't made a habit of blogging might find a link to a blog handy for quick book updates and to keep the author website content fresh. Read more about authors and blogging.
"Frequently Asked Questions (FAQ)"
If an author does have a fan base—or is inclined to get questions about book publishing—an FAQ section can save time and effort, while satisfying author website visitors.


"Media Room" or "Press Room"
As an author's reputation grows or a book's public relations campaign bears fruit, a website can be a convenient place to store online "assets" for the media's downloading convenience. These might include a low-resolution author portrait and jacket photo; press release; author bio; etc.