Sample Electrician Resume
Use This Sample Resume to Apply for Electrician Jobs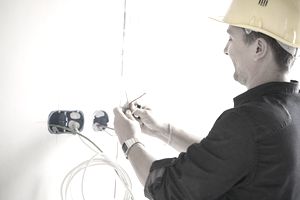 Below is an electrician resume sample for a person seeking employment as an electrician. 
Sample Electrician Resume
FirstName LastName
Street Address
City, State, Zip
Phone (Cell/Home)
Email Address
EXPERIENCE
Electrical Supervisor
Valley Stream Electrical and Construction Service
Valley Stream, NY
20XX - Present
Overseeing employee work site and scheduling.
Assisting in interviewing and hiring new employees.
Working with the construction team to develop a blueprint of electrical wiring for new construction sites.
Installation of wiring and electrical appliances for new construction sites.
Electrician Assistant
Downstate Electrical INC.
Jersey City, NJ
20XX- 20XX
Assisting electricians with installation and repairs of heaters, boilers, and wiring.
Assisting in all other administrative duties.
EDUCATION
City College of New York
New York, NY
- Associates of Electrical Engineering, Magna Cum Laude
- President, Institute of Electrical and Electronic Engineers
George Westinghouse Vocational High School
Brooklyn NY
- Certification in Electrical Engineering
- Team Captain, Robotics Team
CERTIFICATIONS / AFFILIATIONS
- Journeyman Electrician State License
- Associate Member, Institute of Electrical and Electronic Engineers
- Associate Member, International Affiliation of Electrical Inspectors
LANGUAGES
- Fluent in English and Spanish
Electrician Skills List
Here's a list of skills employers seek in the candidates they hire for electrician jobs.
Skills will vary based on the position for which you're applying, so also review our list of skills listed by job and type of skill.
A - D
Accuracy
Adapting to Changing Priorities
Analytical
Analyze Blueprints
Applying Knowledge of Programmable Logic Controls
Calibrating Level, Pressure, Temperature, and Flow Measuring Systems
Carefully Evaluating Risks
Collaborating with other Trades Persons
Commercial Experience
Construction Experience
Conducting 3-Phase Motor Replacement
Conducting Systems Tests
Critical Thinking
Decision Making
Dependable
Detail Orientation 
Diagnosing Malfunctions in Electrical Systems
Diagnostic
E - N
Electrical Installations
Electrical Schematics
Evaluating Options and Ordering Equipment and Tools
Evaluating Processes
Explaining Scope of Work to Stakeholders
Following Directions
Industrial Control Systems
Industrial Experience
Install and Maintain Electrical Equipment, Systems, and Devices
Installing Fixtures and Electrical Components at Construction Sites
Instructing Apprentices
Interpreting Blueprints and Construction Drawings
Knowledge of State and Local Electrical Codes
Laying Out and Installing Wiring Circuits
Learning Evolving Technology
Learning State and Local Building Codes
License (Depending on Location)
Lifting and Placing Heavy Systems
Maintaining and Installing Fire Alarm Systems
Maintaining Tools and Equipment
Maintaining Written Records of Projects
Manual Dexterity
Mathematics
Measuring Cutting and Bending Conduit Using Hand and Hydraulic Benders
Mechanical Reasoning
National and Local Electrical Codes and Requirements
National Electrical Code (NEC)
O - S
Organizational
Planning Projects
Problem Solving
Programmable Logic Controllers (PLC)
Reaching Overhead for Extended Periods
Reading Technical Materials
Recommending Improvements to Processes
Repair Electrical Systems
Repair Wiring Systems, Electrical Conduit, and Related Equipment
Repairing Single and Polyphase Wiring Systems
Repeated Bending and Squatting
Replacing Defective Wiring Systems
Residential Experience
Safety Procedures and Regulations
Schematics
Strictly Abiding by Safety Protocols
Supervising Apprentices
T - Z
Teamwork
Terminating and Setting Switchgear, Panels and other Distribution Equipment
Testing and Repair of Equipment
Time Management
Troubleshooting Motors
Using Power Tools for Drilling and Cutting
Verbal
Working Alone
Working from Ladders and Scaffolds
Working in Adverse Conditions
Additional Information 
Resume Samples
Cover Letter Samples
Top 10 Resume Writing Tips