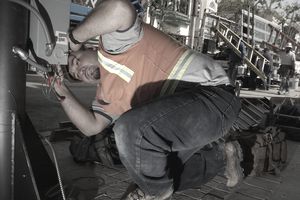 Job Description
An electrician installs wiring, fuses and other electrical components in homes, businesses, and factories. He or she also maintains that equipment. In addition to working with high voltage wiring, many electricians install and maintain voice, data and video wiring. An electrician can specialize in either maintenance or construction but many work in both areas.
Employment Facts
There were about 584,000 electricians employed in 2012.
Most work for electrical contractors. Some are self-employed. They work in residential and commercial buildings.
Working in this occupation can be uncomfortable and, at times, slightly dangerous. Electricians work in cramped spaces and spend a lot of time standing or kneeling. They are subject to minor injuries such as burns, shocks, and falls.
Electricians typically work full time and may work overtime hours as needed. They sometimes have to work evenings and weekends.
Educational Requirements
Someone who wants to become an electrician must enroll in an apprenticeship program that combines classroom instruction with on-the-job training under the supervision of experienced electricians. To enroll in such a program, one must have a high school diploma or a GED, and must be at least 18 years old. These apprenticeship programs generally last four years and include 144 hours of classroom instruction and 2000 hours of on-the-job training each year.
Why Do You Need to Know About Educational Requirements?
Other Requirements
Most states and municipalities require electricians to be licensed. To obtain a license one must pass an exam that tests knowledge of electrical theory, the National Electrical Code and local electrical and building codes.
An electrician must have good manual dexterity and eye-hand coordination.
He or she must be physically fit and have a good sense of balance. Because an electrician must be able to identify wires by color, good color vision is necessary.
In addition to those physical abilities, training, and a license, there are also certain soft skills, or personal qualities, one needs to succeed in this occupation. Strong troubleshooting skills allow an electrician to figure out the cause of problems and the best way to fix them. Critical thinking skills help with this endeavor, as well, since they allow him or her to evaluate the pros and cons of possible solutions.
Advancement Opportunities
An experienced electrician has many opportunities for advancement. He or she can become a supervisor. One who works in construction can become a project manager. Some electricians opt to go into business for themselves and become contractors. An electrician can also become an electrical inspector for a municipality.
Why Do You Need to Know About Advancement?
Job Outlook
The US Bureau of Labor Statistics predicts job growth will be faster than the average for all occupations through 2022.
Why Do You Need to Know About Job Outlook?
Earnings
In 2013, electricians earned a median annual salary of $50,510 and median hourly wages of $24.28 (US).
Use the Salary Wizard at Salary.com to find out how much an electrician currently earns in your city.
A Day in an Electrician's Life
These are some typical job duties taken from online ads for electrician jobs found on Indeed.com:
Diagnose electrical problems by studying diagrams, manuals, and specifications, troubleshooting systems and conducting tests.
Repair electrical problems by replacing faulty parts and components.
Plan layout and installation of electrical wiring, equipment and fixtures, based on job specifications.
Install feeder and branch conduit and wiring.
Discuss solutions with homeowner.
Comply with all safety standards and regulations.
Sources:
Bureau of Labor Statistics, US Department of Labor, Occupational Outlook Handbook, 2014-15 Edition, Electricians, on the Internet at http://www.bls.gov/ooh/construction-and-extraction/electricians.htm (visited February 11, 2015).

Employment and Training Administration, US Department of Labor, O*NET Online, Electricians, on the Internet at http://online.onetcenter.org/link/details/47-2111.00 (visited February 11, 2015).