Get the Facts and Learn About Egg Substitutes
Could the Egg Shortages from Avian Flu Be an Opportunity?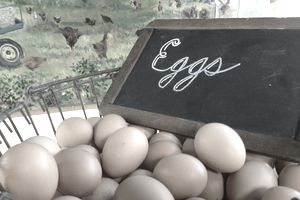 The Van Cleve Seafood Co. was excited to launch its gourmet seafood products in 44 Whole Foods stores on the East Coast by Memorial Day. That is, until Egg-gate 2015 struck. The family-owned food business found its plans delayed by egg shortages. Luckily they got their hands on a new egg supplier and moved ahead with their plans.
The 2015 avian flu epidemic spreading through egg-producing chicken farms shows just how fragile our food system is: The U.S. usually exports 30 million dozen eggs per year (that's 360 million eggs). In 2015, the U.S. will import eggs.
Officials believe the bird flu (H5N2 virus) will decrease once summer temperatures hit. However the virus has hit major egg producers hard, according to an AP story:
Early 47 million chickens are dead or dying, of which 74 percent (35 million) were egg-laying hens.
These chickens provided 80 percent of the eggs for the "breaker" market — eggs turned into liquid to be dried or frozen for processed foods like mayonnaise and or sold to bakeries and restaurants.
All told, a third of the supply for companies using egg products disappeared. In just a few weeks.
On the bright side, smaller egg producers with free range chickens seem to be less affected, so far, anecdotally.
How Serious is the 2015 Egg Shortage For Food Businesses?
"Various kinds of food shortages happen, but this could be one of the worst in recent history." - San Francisco Business Journal
A few chilling statistics from various sources:
The wholesale price of eggs sold in liquid form has risen from $0.63 per dozen to more than $1.50 since the virus began to spread." the Institute of Food Technologist reports, adding:  "This may soon begin to affect the price of breads, pastas, cakes, and other commercial food made with eggs."
For first time since 2002, the U.S."will soon allow imported egg products from the Netherlands to be used for commercial baking and in processed foods." Several South American countries are approved to export to the U.S. as well. (June 8, 2015, AP)
Who's winning? Shareholders of egg supplier Cal-Maine foods 
Hampton Creek - Come To Save the Day?!
Hampton Creek CEO Josh Tetrick told the New York Times that multiple major food manufacturers are looking to their plant-based egg substitute. Already they have delivered "tens of thousands of pounds of its Just Mix powdered egg substitute to General Mills, for foods such as Betty Crocker Angel Food Cake Mix and a variety of refrigerated cookie doughs."
As luck would have it, Hampton Creek had already proven how well its plant-based foods fare in traditionally egg-based foods, including he invention of "An Eggless Egg You Can Fry"
The company has garnered ample accolades for its audacious re-make of mayonnaise as eggless Just Mayo. In 2015, on-site corporate restaurant company Bon Appétit Management Company had become Hampton Creek's first food-service vendor — a huge win, as Bon Appétit manages 650+ cafes in 33 states.
The timing of Hampton Creek rolling out an eggless, delicious chocolate chip cookie dough couldn't have been better as well.
Baking companies can more confidently look to Hampton Creek for solutions now that the company has proven its merits in taste tastes and across food production applications.
The Silver Lining For Food Businesses
This is your chance to become vegan friendly! Take a lead from Chipotle which has found great success with its meatless Sofritas, made from organic Hodo Soy tofu. The "scrambled" tofu is as satisfying as meat or eggs.
You'll serve customers with egg allergies too. Whether or not your company wanted to expand its customer base, this is your opportunity to serve a new set of customers.
While companies like Enjoy Life Foods — which already were egg-free — can rest on their allergen-free laurels, suppliers to the food industry stand to benefit from the shortage.
Packaging and printing companies will help companies rush to change their labels for the new ingredients and nutrition profiles.
Growers of ingredients like chia seeds that Hampton Creek uses liberally will see their production grow.
A "Teaching Moment" for Food Entrepreneurs
The Van Cleve Seafood team learned that it's critical for small companies to have backup suppliers for ingredients. And it's important to have open communication with your sales channels when
issues that are out of your control do arise so that you can together work through a solution.
They found Whole Foods great to work with. "In true partner form, they even offered us access to their direct suppliers," said a spokesperson.
Just a few options for egg substitutes for home chefs, foodservice chefs and food product manufacturers:
Hampton Creek makes a plant-based, non-soy "Just Mix powdered egg substitute" which is not generally advertised on the website but is worth looking into if you are a major producer (more info to come!)

Bob's Red Mill Vegetarian Egg Replacer for baking is made with whole soy flour, wheat gluten, corn syrup solids, algin (from algae).

Ener-G gluten-free egg replacer, also for baking, is made with Potato Starch,Tapioca Flour, Leavening (Calcium Lactate, Calcium Carbonate, Cream of Tartar), Cellulose Gum, Modified Cellulose.
Tweet any more tips and stories to me @susiewyshak. Live long and thrive in this interesting time where food tech meets food necessity.