Book Review: Effortless E-Commerce With PHP and MySQL by Larry Ullman
Get Under the Hood of Ecommerce Technology With this Book on PHP and MySQL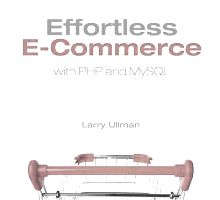 When you think of technologies for ecommerce websites, those who are used to the old traditions of the web will immediately think of HTML and Flash, both of which are certainly important technologies of web design. In fact with the coming of HTML 5, this age-old programming language has got a new shot in its arm, and we are truly looking at a paradigm of effortless ecommerce.
But there is an increasing reliance these days on PHP and MySQL, both of which are often considered the new giants in the world on business web design.
This is because of their ease of use and ability to create effects that make it simple to create, maintain and resolve problems with little or no experience. That is what has made PHP and MySQL popular among ​ecommerce businesses that develop their own code. And that is the basic proposition of this book by Larry Ullman.
The Author
Larry Ullman is a popular technology expert who is especially well known for his work in graphic design, and the books he has written on the topic. He has a blog titled "Larry Ullman: Translating Geek Into English", and has authored more than a dozen books on topics like PHP, SQL, JavaScript, C++, and Ajax.
His work is helpful and written in a friendly and casual tone that breaks down the bulky content into easier to understand prose. So those who are familiar with some coding, but are not advanced on the methods, would do well with his books.
The Content
Ullman has an interesting approach.
He has created two different ecommerce sites, one to sell digital goods and the other for selling physical goods. By going through both sites, he teaches you the distinction between the two, and how you can best implement customized ecommerce practices for running either.
He also covers creating the sites using the PHP and MySQL platforms, maximizing sales through customer engagement, secure transactions, and privacy/security concerns, building administrative interfaces, payment gateways and more.
The word 'effortless' in the title is misleading: this is a heavy book with a lot of information, and the material is somewhat complicated. But he breaks it down for the layperson perhaps better than anyone I have seen. All the while dealing with it in a compelling format, that reads partially as entertainment, which you don't come across often in technical manuals.
Still, some basic familiarity with website design (and ecommerce) wouldn't hurt. If you have no experience with either, you might struggle a bit more but it is still entirely possible to get down the fundamentals and make it work.
Pros
Well written and extremely thorough.
Covers both intangible and physical products -- shows the difference between each situation.
Really manages to show you how to use MySQL and PHP without overwhelming beginners.
Written by a man who has proven again and again that he knows his stuff.
Cons
A bit dense for the technically-challenged.
Conclusion
One thing I would suggest to anyone picking up this book is to check out some of his other works, as well. He has written quite a few on both PHP and MySQL, including one with both for dynamic web design. Most can be found on Amazon, and all are written in the same tone and with the same thoroughness as this one.
Here are some more books by Larry Ullman that will be of interest to someone who is developing an ecommerce website:
PHP Advanced and Object-Oriented Programming
PHP and MySQL for Dynamic Web Sites
Building a Web Site with Ajax
Modern JavaScript: Develop and Design
Of course, there is a case to be made against the need for programming when it comes to developing ecommerce websites. Instead, ​one could consider one of the many off-the-shelf shopping carts, and customize them.