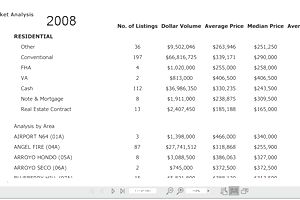 I want to start out by stating that the majority of my leads for qualified buyers and sellers in my market came from this one strategy.  They were on average the best leads as far as quality and conversion too.  This works for lead generation from visitors to your real estate website.
The Offer
Visualize the first time visitor to my website who got there from organic search or my PPC marketing, which is how almost all of them arrived.
 Since most of my clients were out of area buyers and owners in my vacation market, the website was my most cost effective marketing venue.
They arrive, usually with a search for a place to search all listings for sale in my market.  I ran ads specifically for this, and they would arrive at a landing page that got them to property searches right away.  In the sidebar, I had a marketing statistics box or link to a page with some recent sales stats and the offer of more detailed market sold property reports.
The offer and how it was handled varied, as some of my other marketing would get my visitors directly clicking to a page looking for "home prices in my market" type of searches as well.  So, no matter how they arrived, I had a customized form in the sidebar offering a detailed report of the sold properties in the past year.  
You can see part of one of those reports in the image.  Other than the "2008," this is exactly as the MLS output the report in pdf format.
 It was fast and easy, with no fancy formatting on my part.  The visitor wants data, and that's what I provided.  Should I have made the reports fancier?  It may have increased interaction, but I already would have their email address when they asked for the report, so I had what I needed to move them through my process.
I also would combine these annual pdf files into a larger file, and I ended up with a 10-year report which I also offered for the really data intensive people.  This was powerful information because my MLS, as do some others, would purge all sold data over five years old.  So, I was the ONLY resource in my market area for long term property price data.
The Conversion Process
At this point, I've successfully generated a lead, as they provided their name and email address to get immediate delivery of the requested report.  They're still just a lead however.  In vacation markets the sale cycle can be as short as the current season to as long as years.  One client who I eventually sold a nice home to worked with me for three years.  He told me that he was retiring to my area in three years and would buy a home.  I showed him a few homes each year on his vacation visits and then the deal closed.
Anyway, the process after I got that email address and delivered the report was to place them into a short drip email campaign of four emails over a two month period.  These pointed them to other areas of my site that had extensive area and market information and always offered to answer any questions they had.
 Though I had an optional phone number field in the initial form, I never made an unsolicited call if they gave me their number.
The final email in that 4-email series thanked them and told them that they were now on my exclusive quarterly market reports delivery list.  I would email a quarterly sold report to that list every three months, and that was the only email campaign I maintained.  It took about 15 minutes to generate the report and email it to the list.  
Over the years, I got the vast majority of my buyer and seller leads that converted to transactions using this process.  Sellers want data too, as they want to watch the market for opportunity.
The Discovered Benefit
Over time I noticed a trend when it came to the type of buyers and sellers who responded and closed deals with me.  They were in large part business owners, lawyers, accountants, judges and other professionals.
 What I came to realize was that these people were analytical and did their homework before making decisions.  They appreciated my differentiation as a market expert and I enjoyed a higher average deal amount than many brokers in my market.