Early FAFSA for Returning Students
How the New Timeframe Affects Students Already in College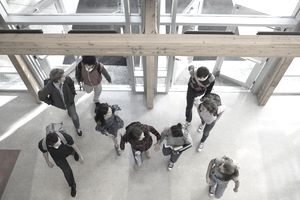 You may have seen or heard a lot of information about the "new" early FAFSA. The FAFSA itself isn't actually new, but they are taking a new approach to its timing. Instead of the traditional January availability which students and parents have become accustomed to, it is now online in October. Since that time, students planning to be freshmen during the 2017-18 academic year have been diligently completing the FAFSA as part of their application process.
But what does this all mean for students who are already in college?
If you are going to be a college sophomore, junior or senior during the 2017-18 academic year and want to receive financial aid for that year, YOU MUST COMPLETE THIS FAFSA. Even if you just completed a FAFSA at the beginning of 2016, you will need to do that process again. Also be sure to check and see whether your school has changed any of its financial aid deadlines for returning students. Although you might technically have a certain amount of time to complete this task, keep in mind that some financial aid programs have limited amounts of funding available. Especially for returning students, it is still best to submit your application as early as possible so you don't miss out on crucial financial aid funding. Here are some other points about completing the FAFSA that might affect students who are already in college:
Prior-Prior-Year (PPY): If you completed a FAFSA that came online in January you might remember estimating your income tax information. After you filed your returns you then had to go back and update these fields. Now the Department of Education has instituted a practice they call "prior-prior-year," or PPY. This means they will use income information from two years prior to the year you are applying for aid. For the 2017-18 academic year this means you will once again use information from your 2015 federal income tax return. In this one instance only it will actually be the same information you used at the beginning of the year. Even though it is still using the same 2015 information, you must still complete another FAFSA. In October of 2017, you will then complete a FAFSA for the 2018-19 academic year using information from your 2016 federal income tax return. You should be able to use the IRS Data Retrieval Tool, as it is anticipated that your taxes will be completed by then.
Changes in your financial situation: Because of the use of the PPY you might feel that your family's current financial situation is out of sync with what you reported on your 2015 federal income tax return. In any case, you must still pull data from that return and complete the rest of your FAFSA utilizing information that is current as of the date you are completing the form. If you or your family has experienced some type of situation which will have a dramatic impact on your anticipated income in 2016, you will need to call or email the financial aid department at your college directly. If there has been a marriage or divorce, job loss or change, medical situation, or death in the family that will impact your ability to pay for college next year, complete the FAFSA, gather your documentation, and talk to your financial aid office. Ask what their specific process is as each school is different, but in general, they will compare your documentation to the data reported on your FAFSA and take any new information into consideration when calculating your financial aid package for the next academic year.
Colleges and potential students are both quickly adapting to the new FAFSA timeframes, so it is crucial that returning students also get themselves up-to-date on changes as quickly as possible.
As you may know from your previous experience in applying for financial aid, sometimes it really is true that the early bird gets the worm. Don't be late for financial aid — get your part of the FAFSA done now, and then talk to your parents to make sure they provide their information quickly as well.