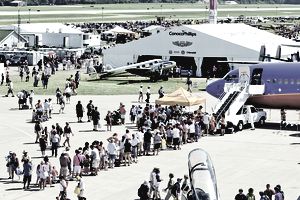 If it weren't for a few spectacular and very specific things, EAA AirVenture Oshkosh would be just another airshow. And once you've seen one airshow, you've pretty much seen them all, right?
The acts are the same. So whether you see the Tora Tora Tora! act at Oshkosh or at an Air Force base in the midwest, once you've seen it, it's just another act. Sure, it's still a great display of aircraft power and the skills of the pilots should not be undermined.
But the air show at AirVenture is, for the most part, just like any other air show.
So what makes Oshkosh different from all of the other great air shows? What attracts thousands and thousands of people for an entire week? It's not the air show... at least not solely. Here are a few other reasons people love Oshkosh. For these reasons combined, it's easily the best aviation event in the world.
It's a place where friends reunite.
 It's an excuse to show off your airplane, if you have one.
 It's a place to see the latest in aircraft technology and design, along with the latest aviation products.
It's a mecca of friendly, like-minded people.
It's (quite amazingly) almost completely operated by volunteers, who are also extremely friendly.
No matter what aviation group you hang out with, there's a whole list of events that will suit you.
The event runs smoothly. There are no long lines for tickets, no long lines for camping, and even though there's a long line for parking, traffic control is smooth and it goes really quickly.
The food is good. Cheese curds, beer, and ice cream can be found at any of the vendor stands.
Kids aren't forgotten. In fact, they're included and encouraged.
You have your choice of camping with your airplane, camping at the regular campground, booking a cheap dorm or a fancy hotel. Tons of options for places to stay.
 The swag is the best. Companies come prepared with their best giveaways
 No need for suits and ties! Casual attire is recommended and appreciated, even for media events and press parties.
 There's something for everyone, even your non-aviation friends. Shopping, dining, hitting the town for wine and cheese... everyone can find something fun to do at Oshkosh.