E-Business and E-Commerce Management (4th Edition)
Strategy, Implementation and Practice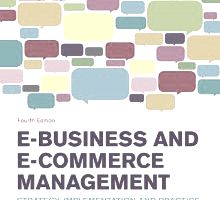 This book is unlike most ecommerce books out there. The point of this book is not to provide the reader with a how-to on getting started with an ecommerce website, or even running a business online.
Instead, E-Business and E-Commerce Management by Dave Chaffey is an extensive explanation of the concept as a whole, in the form of a textbook. As the title suggests, it is meant to be read as an in-depth study of the strategy, implementation, and practice of online business and marketing.
At 800 pages, it is as dense a read as you could imagine a textbook to be. Rather than think of it as a book, it helps to consider it more of a learner's course on the subject. Like a home study plan on ecommerce that will go from A to Z at a slow enough pace to give you a real grasp of the material.
The Author
Dave Chaffey is a UK based marketing expert who is considered to be one of the gurus of ebusiness. He was named so by The Chartered Institute of Marketing, as well as recognized by the Department of Trade and Industry as one of the leading authorities on ecommerce.
Through his books, blog, and position as a consultant and visiting lecturer at Warwick University and the Cranfield School of Management, Chaffey has had a direct hand in the shaping of marketing and online business as it is today.
His other books include Internet Marketing: Strategy, Implementation and Practice, eMarketing eXcellence: Planning and Optimising Your Digital Marketing (written by PR Smith, now in its third edition) and Groupware, Workflow and Intranets: Re-engineering the Enterprise with Collaborative Software.
The Content
Beginners should consider this one of a few required reading tomes if they want to get a good handle on business in an online environment. Chaffey speaks from experience about every thing right from basic concepts to the more advanced principles, and obstacles, you will face.
Intermediate and advanced users should likewise take an interest in this volume, if only as a reference.
It is great to have on hand, and future works will probably continue on the same track.
Three crucial elements are the most widely discussed in the book. These are the approach you take to your ecommerce strategy, your priorities moving forward, and how much you will need to invest to make it happen. From there, you will be given a highly structured system for developing your business using these three principles.
Pros
Perhaps one of the most informative books on the subject to date.
Filled with information from the basic foundations to building an ecommerce business.
Plenty of case studies included.
Handles the issue of marketing in an online format.
Cons
A challenging read, due to its density.
Very dry.
May be a little difficult for beginners to follow until they have gotten some of the basic principles down.
Conclusion
I can't say enough about the influence Chaffey has had on the industry. Looking at the way he has helped to form marketing as we know it today, it is only natural that he would offer something really special when he shares his expertise.
This book is a must read for any online business. Of course, you may be looking for a beginner's or practitioner's book. In that case, I have some other books I can recommend: