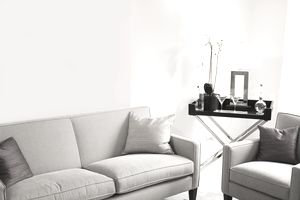 Renting your first apartment or buying your first home is an exciting occasion. When you move out on your own you need to  buy furniture for your first apartment. Furnishing an entire apartment can be very expensive. Many people choose to purchase their furniture using a payment plan or a credit card. It can take years to pay it off, and cost you much more than paying cash for your furniture. This can be even more difficult if you did not budget for your move, or you need to save on a cross country move.
Learn some easy ways to save on your furniture costs.
Buy Only the Bare Essentials to Start Out
Start out by buying the things you need to get buy and then add on slowly. You can a make a list in order of the most important items and work through it as you purchase items. The most basic piece of furniture for most people is a bed. This does not mean you need to be a bedroom suite or a headboard. In the beginning, a mattress, box spring and bed frame may be all that you can afford. Similarly, you may need a table or a desk in order to complete your work. Although you may be tempted to use a rent-to-own store or payment plan to get your furniture, it is best to save up cash to do it. 
Beg
You can ask friends and family for furniture if they have any furniture they are no longer using. Before you bring any furniture home with you, make sure it is clean and pest free. You can move bugs in with a dirty couch or another piece of furniture.
Vacuum and shampoo the couch before you bring it home. If the item has been in storage, it may have spiders on it, which you should clean off before you move it into your house. You can hide an ugly couch with a couch cover, which less expensive than buying a new couch. Shelves and other furniture can be painted to make it more appealing.
Borrow
Another option is to borrow an item until you can purchase your own. For example, you may borrow an old television or microwave until you have cash to purchase your own. These items cannot be painted since you are going to return them to the person who lent them to you. You can use a couch cover, though. This is a good temporary fix if you know you can buy something new soon. Generally, smaller items are easier to borrow since they are easier to move and you need to move the item twice.
Buy Used
Buying furniture used is a good way to save money when you are decorating. Craigslist, the classifieds, and yard sales are great places to get good furniture at a much lower price. You can also shop for furniture at thrift stores and get good prices. Some of the pieces may need to be refinished, and take a little work, but may end up being your favorite pieces for the entire house. The key to finding the right piece at the right price is to be patient. This works for accent pieces or for quality pieces to replace your temporary pieces you are using.
Shop Sales and Bargain
You can save money by shopping sale for furniture and going to discount warehouses to make your purchases. Sometimes you can negotiate discounts for flaws on floor models that are easy to repair or hide.
Also, furniture often goes on sale around the Memorial Day and Labor Day. Waiting for the sales to make the purchases can save you a lot of money, especially if you pay for your purchase with cash. Discount clubs may have a good deal on the furniture you want. Sometimes you can save money by buying an entire set rather than individual pieces, and then selling what you do not want on Craigslist. Other times you may do better buying just one piece at a time.
Accumulate Slowly
Once you have your temporary furniture you can work to accumulate the nice pieces you want slowly. Include a furniture fund as part of your monthly budget. As you put money aside you can save up to buy the really nice pieces of furniture that you really want. When you purchase furniture choose pieces that will last and that you can continue to use even if you change your decorating taste and accent pieces.This will allow you to add the perfect items to your apartment.
It helps to realize that it is a work in progress.
Save on Redecorating
If you choose quality pieces ,you can change the feel of the room by repainting and choosing new accent pieces. For example, changing out the lamps, throw pillows and pictures in a room, along with a new paint color will give the room an entirely new look without costing you thousands of dollars to replace the furniture. In the bedroom, you can swap out the bedding and nightstands. In fact, you may find shifting furniture around between rooms can give you the new look you want.