Introduction to Domestic Partnerships and Domestic Partner Insurance
How to Get Coverage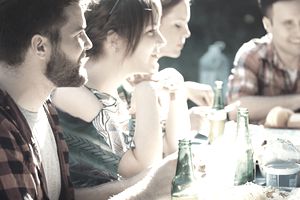 What is a Domestic Partner?
A domestic partnership is when two people live together and are involved in an interpersonal relationship sharing domestic life as if married, however they are not legally married. Being in a domestic partnership involves being in a committed relationship. You can not be married to another person, and still be considered a domestic partner, read more about qualifications and criteria of what qualifies people to be considered domestic partners below.
Domestic partner (DP) is a term that refers to an unmarried partner of the same or opposite sex.
Domestic partner is a term often used in health insurance to describe who may be covered by a family health policy. The term may also be referred to as Qualified Domestic Partners (QDP).
What is Domestic Partner Insurance?
Domestic Partner Insurance or Domestic Partner Health Insurance is when an insurance contract expands the definition of spouse to recognize domestic partners, as a result, the health insurance benefits may be extended to the unmarried partner and their children. Couples of the same and opposite sex are able to share insurance under a domestic partner insurance coverage just as a married couple would, with the biggest benefit being a reduced insurance rate and the ability to be eligible for the employee benefit package.
Who Qualifies as a Domestic Partner?
Since there are no current federal guidelines that state what a domestic partnership is, that answer is up to each individual state.
It is becoming common practice for states to recognize a domestic partnership as a committed couple in a relationship (same sex or opposite sex) similar to a marriage, but with no official marriage license. So, this would mean that the couple would have similar characteristics of a marriage such as sharing a common residence and financial responsibility.
How to Qualify or Prove You're a Domestic Partner for Domestic Partner Health Insurance
You may have to sign a form available from your health insurance administrator or employee benefits plan administrator that includes several declarations, for example, stating:
the same regular and permanent residence for at least six months, to a year (depending on the insurance company) with the current intent to continue doing so indefinitely.
are known as being in a relationship in the public eye
neither person is married to someone other than the domestic partner and neither person is in a domestic partnership with another person
Are jointly financially responsible for "basic living expenses," defined as the cost of basic food, shelter and any other expenses of a domestic partner because of the domestic partnership. This may include a requirement of proving this by showing documentation
Documentation That May Help Prove Domestic Partnership via Shared Financial Responsibility Declarations
Although not all these items may be required, you may have to show some of these to prove your "domestic partnership" under some health care policies.
Common ownership of a car or other property (joint deed or mortgage agreement) 
Driver's licenses listing a common address
Proof of joint bank accounts or credit card accounts and loans
Designation as the primary beneficiary for life insurance, retirement benefits, or under a partner's will
Assignment of power of attorneys
Are Children of Domestic Partners Covered Under Domestic Partner Plans?
If the health insurance company recognizes you as a qualified domestic partner, then your children will be eligible for benefits under the family benefits. This may include: biological children, stepchildren, and legally-adopted children. You may ask your health insurance plan administrator to clarify the coverage specifically for any special situation to be sure the children are properly covered. Normally when the form is completed to request recognition as a qualified domestic partner, there is information to be filled in regarding children.
How Can You Add a Domestic Partner to a Current Health Insurance Plan?
Although every insurance plan is different, ask your benefits plan administrator to find out the specifics and make your formal request so that your partner may be added as soon as possible. Most employer health plans will allow the addition of a domestic partner if the plan includes this kind of coverage. 
How Do I Evaluate Domestic Partner Insurance?
Evaluating domestic partner insurance requires the same research as evaluating the purchase of any type of health insurance. Taking the time to understand and review a health insurance policy thoroughly is important and will help you get the most out of your insurance. Using the Health Insurance 101 article will help you determine the kind of health insurance coverage you may need along with information on understanding your health insurance policy and claims assistance.
How Do I Find a Domestic Partner Insurance Health Benefit Plan?
Finding an insurance company that will accept you and your domestic partner can sometimes be a lengthy, time-consuming process especially if changes to the laws in 2015 made your employer cut domestic partner insurance benefits. The first step would be to start with your employee benefits health insurance plan at work. You can contact your insurance company directly and ask them if you can insure your domestic partner on your employee health insurance plan and if so what steps do you need to take to get started. If your employer's health insurance plan does not provide domestic partner insurance next check with a private company. Here are some online sources that may help in your search for domestic partner insurance:
Insurance Companies that Provide Domestic Partner Benefits
Impact of Same-Sex Marriage Legislation on Employer Domestic Partner Benefits
Can your employer force you to get married in order to benefit from a health insurance plan, continue reading about some of the changes and statistics regarding employee benefits for domestic partners and the modern family on page 2 as well as information on
What to Do if You Need Domestic Partner Benefits and Your Employer Won't Provide Them
Why Domestic Partner Benefits Are Important in Society
The definition of domestic partner in health insurance benefits has become necessary and it important because over the years more and more Americans choose to live in co-habitative long-term relationships, but do not choose to be legally or religiously "married". Until the recent legislation, this was equally important for same-sex couples and families to ensure they could have a chance at the same types of benefits that other domestic partner opposite-sex couples benefited from. As needs of people have changed, many employers offering employee benefits and insurance companies have changed with them. 
Modern Families and Domestic Partner Health Insurance
Historically, when a couple shared an insurance plan they had to be married. However, from 2000 to 2008, there was a 15.7% increase in unmarried-partner, opposite sex households, by 2014, according to data from the National Center for Family & Marriage Research,there were 7.9 million heterosexual co-habitating couples. It is understandable how forward-thinking employers and insurance companies evolved health benefits coverage over time to include domestic partners and offer coverage to non-traditional families. 
The Impact of Same-Sex Marriage Legislation on Domestic Partner Insurance Benefits
Traditionally some employers offered domestic partner insurance to same-sex couples because they could not be legally married. According to Aon Hewitt, 77% of large employers offer domestic partner benefits to same-sex couples and 51% offer the benefits to opposite-sex couples. 
Following the legislative changes, there was much speculation if these employers who only offered the coverage due to the restrictive laws would remove the ability for their employees to benefit from domestic partner insurance because they could now be married. As outlined in the statistics above regarding the co-habitation and domestic partner needs of opposite-sex couples and families in America, this kind of decision goes against what the data would suggest, However, the companies making these decisions may are likely to be among the employer group who never offered the coverage to same-sex couples either. You can view the Bureau of Labor Statistics table of unmarried domestic partner benefits across private companies here.
In 2015, some companies did remove the domestic partner health insurance benefits for their employees giving the employees notice of the change, in order to give them time to "get married" under the logic that if people wanted to be married, they now legally could and the fact that opposite-sex employees had not been benefiting from the Domestic partner coverage, therefore this would seem fair.
Can Your Employer Force You to Get Married to Get Employee Health Benefits?
An employer obviously can not force you to get married, and a person should never get married just because they want health benefits, however for employers that do not offer health insurance to their employees who have domestic partners and families, the value of health insurance as part of the benefits package could become very important.
Do Domestic Partner Benefits Coverage Cost an Employer More Money?
As shared by the Human Rights Campaign, several studies by Hewitt Associates provide data that has shown that the cost of unmarried spouses does not increase costs more than 1-3% for an employer and that the actual costs for domestic partner benefits are the same as those of married employee "spousal" benefits.
Employee benefits are meant to attract and keep good employees, and maybe this is where the employer focus should be when they consider offering Domestic Partner Benefits. 
What to Do If You Need Domestic Partner Benefits and Your Employer Won't Provide Them
If your employer does not provide domestic partner benefits, you could see if your partner's employer does. Failing this, you could look to find your own health benefits package from an insurer who offers Domestic Partner Health Insurance. Once you have alternate benefits, if they provide you better or more coverage, then after carefully reviewing the details and once your alternate coverage is in place you could request to sign a waiver of health insurance benefits and try and negotiate alternate compensation from your employer.  
Insurance Companies that Provide Domestic Partner Benefits
Can You Ask Your Employer to Add Domestic Partner Benefits to a Plan?
Yes! You may also try and ask your employer to add domestic partner benefits to your company health insurance plan using the data we discussed above. Statistically, it will not cost them much more if anything. The coverage for domestic partners can be added by most employee health benefit plans very easily.