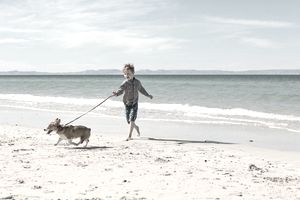 If your child is a pet lover, he may be super excited about taking on dog walking jobs. In particular, children under 14 have limited employment opportunities and being a dog walker may be one of the only avenues of work available to them. But just as pet sitting jobs have drawbacks, so do dog walking jobs.
With this overview examine some of the pros and cons of letting your child explore this career opportunity.
Who knows? He may one day become a veterinarian, open up a dog grooming business or run an animal shelter.
The Pros of Kids Dog Walking
Dog walking typically pays more money than pet sitting and could become a regular job for your child if she bonds with the right four-legged client. Because dogs are a very common household pet, your child may easily find families in need of a dog walker. Kids can get started by telling friends and neighbors about their new dog walking business. In addition, they may want to check with elderly people who have trouble walking.
Dog walking is a great job both during the summer and when school is in session. During the school year, your child can walk dogs as her after school job. It's not only a fun way for kids and dogs to stay fit, but dog walking won't take up a large part of the afternoon and evening. This leaves time for kids to complete schoolwork and participate in extracurricular activities.
Dog walking is also an attractive option for kids because it doesn't require them to spend a lot of money to get started. They won' have to pay money for a uniform, for example. But children would be wise to purchase a spare leash or harness for the dogs they walk and a water bottle to keep them hydrated.
Unlike other jobs, dog walking can be appropriate for kids of various ages. But children should walk dogs in well-lit and well-populated areas that they know well. In addition, children can take on two different clients at once and walk them at the same time, allowing for double the income.
The Cons of Dog Walking
Dog walking is a lot of fun, but clients expect children to be reliable. If a child walks dogs daily, he can't just call in sick. Fido will still need to get his walk in. Make sure your child has a friend or sibling lined up for emergencies, or else you might be stuck walking the dog.
You'll also need to make sure your child knows that cleaning up after the dog poops is part of the job. Your child should have plastic bags to pick up dog poop and walk routes where there's at least one trash can in which to deposit the waste. 
Cleaning up poop isn't the only responsibility your child will have. Dog walking entails caring for a living creature, so he must understand the consequences of his actions when he is with the dog. This means keeping the dog on a leash and not allowing the animal to run out onto the street. 
Because walks are so important for dogs, these animals may still need a walk when it's cold, snowing or raining outside.
Dog Walking Teaches Kids About Money
Kids should research how much they'll be paid as a dog walker. They'll likely earn less than professional dog walkers, who charge anywhere from $10 to $30 per hour and can go as high as $50 per hour. Your child should call around and get quotes from others who offer the service to determine the going rate in your area.
Some clients will offer your child a fixed price. Others will ask how much she charges. She'll learn that prices fluctuate based on the client and the circumstances.