Do a World of Good on eBay
One special eBay company supports responsible buying and selling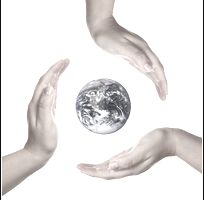 Buying and selling on eBay is great, but these are troubled times that call for eco-friendliness and social consciousness. Ever wonder whether there's a way to go beyond charity donations and one-time investments on eBay and engage in "enlightened" buying and selling practices on a daily basis? In fact, there is.
Enter World of Good, an eBay company that brings eBay's item listing and independent selling models together with a healthy dose of world-friendly behavior.
Whether you're looking to buy a solar-powered messenger bag, a Ghanian clay pot made by an artisan, or all-natural, organic, and sustainable remedies for common ailments, Word of Good can take you there.
Likewise, if you're a seller with sustainable, eco-friendly, or people-friendly wares to sell and want to be sure that your goods command the premium that they're worth (and that enables their continued production), World of Good may be the perfect wing of the eBay community for your needs.
How World of Good Works
The World of Good model helps buyers to know exactly what they're buying. All of the goods sold on World of Good must be verified by a third-party (other than the seller in question) to be "people positive," "eco positive," "animal friendly," or to "support a cause." Every listing is clear about which of these criteria apply, and extensive details about production, trading, and transportation methods are given.
Buyers can also search by these criteria to help them shop more carefully.
While all of this may sound as though it places a heavy burden on sellers—maybe even enough to discourage them from participating—in practice it's easier than it might initially seem, thanks to an ingenious system of relationships.
Here's how it works. (More details on the process can be found at the World of Good Become a Seller page.)
Sellers become a part of eBay. Would-be World of Good sellers must first join eBay. Certain fundamental eBay selling criteria must be met up front before World of Good listings can be made: the account must be in good standing; the seller must have a positive feedback score of at least 5 or be ID Verified; they must have a premier or business PayPal account; the selling account must be set to require immediate payment for Buy It Now listings and to use eBay checkout.
 
Sellers apply to be certified by a trust provider. This trust provider reviews the sellers goods, credentials, and business practices and certifies that the seller meets one or more of the positive criteria (people-, eco-, animal-, or cause-friendly) monitored by World of Good.
 
Sellers apply to join World of Good. With a membership in good standing at one of the certified trust providers, who provide documentation of the membership to World of Good, eBay sellers can apply to become World of Good sellers.
Though World of Good is currently small compared to eBay's core site—there are less than 10,000 each of "people friendly" and "eco friendly" listings—the model is a clever one.
Furthermore, even though the listing volume is currently rather small, many of the goods would be "cream of the crop" listings on the main eBay site. Because of the nature of World of Good, there isn't any of the dizzying assortment of often disappointing options or sellers on offer, just the stuff that you might actually want to buy—a refreshing state of affairs for anyone that has at one time or another wondered whether eBay might be becoming just a bit too cluttered. Some have said that eBay is like a worldwide flea market or bazaar. If that's true, World of Good is more like an upscale, urban botique for socially conscious buyers and sellers, with choices and selection, and peace of mind to match.