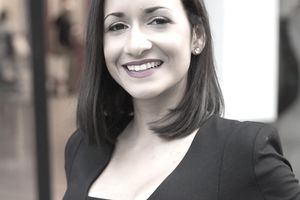 Jet D'Or is a full-service private aviation charter company with a global list of clients. They handle everything from quick trips to business junkets to family vacations. Jet D'Or has a network of over four-thousand planes which they track for location and availability so they are always ready to secure whatever their client needs. They can get a client in the air within four hours if necessary.
The industry is divided primarily among jet owners (operators), brokers, maintenance, and finance.
The brokering aspect offers tremendous advantages for clients because brokers can operate worldwide whereas an operator may have geographical limitations. It's a relationship business, in which developing strong contacts drives repeat business.
I sat down with Colombian-born Diana Zuluaga, co-founder of Jet D'Or, to find out more about her company and her role as an international woman in business.
"My husband calls me a unicorn because I've done everything different here in the US from what was expected of me in Colombia." Diana went to university in England. Earning a degree in a new country in a foreign language is a process that requires immeasurable dedication.
Private jet chartering comes down to knowing your clients and knowing how to find what they need. "A client traveling through Africa may require a plane based in the US or western Europe. A client in Latin America may want a security escort to a hotel." Diana spent the early years of her professional life in the foreign service.
Her vast experience in foreign countries, dealing with diplomats and ambassadors, gives her the sense of urgency and understanding of regulatory requirements that shift from country to country.
What drove you to become an owner? "It was a step-by-step process. My academic and professional background was in international affairs.
So for six years I was in public-service institutions; I had the great opportunity to work at the Clinton Foundation and for the UN in the Dominican Republic."
Check out her history here at LinkedIn https://www.linkedin.com/in/dianazuluaga
"In 2012 I made a decision to move from public service into the private sector, realizing my skills might be better suited for other industries. I wanted to work for a private, international travel company. I had a strong desire to apply my communications, academic and language skills. I wanted my income to reflect my effort. I didn't care if I had to start at an entry-level position. I knew I had the talent and education (NYU: Masters degree in Public Administration) and experience to sell to a high-level clientele. I just knew this environment was right for me.
I was recruited by a company similar to Jet D'Or. They hired five people and after two weeks working on commission only, I was the only one who survived. Within that two-week period, my coworkers had left and I had landed three important deals, so I knew I was in the right industry for me. I became terribly excited at the realization that this industry was something that was ideal for me and I'd be at it for a long time.
I stayed with the company for about two and a half years and at the beginning of 2014, after much encouragement from my closest clients, I decided to venture out on my own and I always say, I never felt more alive until the day I was running my own business.
The moment of clarity was when I made the decision to no longer be in public service or international affairs and go into business. I knew my talents and abilities and I wanted to be in a more competitive, more results-driven environment. I knew I liked to travel and work with people from other cultures, so I began working for an air-charter company and learned the business."
Diana set about the process of acquiring the skill-sets necessary to form her own company and run the entire operation. She understood the risks but she had an expanding client base encouraging her to be an owner.
Her current clients were continually recommending new ones so the timing was important; to take advantage of momentum.
Opening a business like Jet D'Or does not require an outlay of a lot of capital, but what is important is access to the databases and the skills to navigate them to service clients effectively. If there was a career track ideal for being an owner of an air charter business, it's the one followed by Diana.
"So with a laptop, a phone, a couple of important subscriptions to databases, we developed a website and started operating."
Tracking the planes is a critical component. It's done with software and systems in North America and western Europe. "We know in real time where the planes are or when they are in transit from city to city, or when they have an empty leg back etc., so it really is knowing how to use a comprehensive database and have to ability to service the clients quickly."
How does Jet D'Or protect the business from competition if the barriers to entry are not high? "So the biggest barrier to entry is knowledge. If a client requests a particular type of aircraft, you must know from where and how quickly you can get that plane. You must also be on top of how old planes are, when they were serviced last and to which country's standards the aircraft is maintained.
What differentiates us as a boutique company is this: my partner, Adam Petruccione, and I have both traveled extensively. It is important that we have this direct experience. I've been to this particular hotel in Paris or been on that plane so I bring a level of value my clients appreciate."
What trepidations did you have about business? "You'll quickly discover when you get to know me that I'm fearless and that has a lot to do with the way I was raised in Colombia. I really don't feel those kinds of fears. I feel the responsibility, the weight of knowing if I don't make that call the money isn't going to happen but, I'm never scared of making that call." She made me laugh when she admitted, "I just never expect anyone to say no. When someone tells me 'no' I am surprised."
Diana lived in four countries and traveled to thirty in foreign service. Those experiences both inform and bolster her capacity to deal with a range of clients at every income level or position in their country or company. Clients can be divas, but Diana says the people with the most money are often the easiest to deal with.
I asked how she was accepted by men in other countries. She said there was never really an issue but, "certainly in more traditional countries, such as Indonesia, I would find myself in a room with two-hundred men and five women.
There are protocols to learn but that doesn't mean you undermine what you are there to represent. You still have to accomplish the mission. They know you come from a country where woman in these roles are accepted but you have to be delicate in the way you handle yourself. For example, in some countries you have to ask permission to interrupt but in the US I feel fully confident in interrupting."
In some Latin-American countries, women are still reluctant to fully disengage from being a homemaker and in the choice between business and the home, the women will retreat from the traditional 'man's role. Diana says, "Many of the women I know who are business owners in Latin-America tend to be in businesses that are directly related to a woman's market such as beauty, fashion, lifestyle. In the US we see women founding and running technology and software engineering firms—technical fields that are not often seen in Latin America being run by a woman."
Do you ever feel the burden of being a trailblazer for other women? "Yes but not so much here in the US and western Europe; I feel an equal—absolutely. So although, in Latin America, for instance, even though they are very respectful, I will get questions like, 'When is your husband expecting you?' They do it as a joke but they would never ask a man those questions."
An international client base can be tricky. Diana says you could get shocked if you aren't accustomed to seeing the way men travel with their wives, or multiple wives, or service personnel. It can be a surprise to see the women sitting in the back of the plane simply because they are women. The more one talks to Diana the more she shines as an ideal person to be running a company like Jet D'Or and I can't imagine her not being wildly successful at it.
"Skills are transferable. I feel that my skills I developed from dealing with ambassadors from other countries was an absolutely transferable skill to the private jet world because now I am still dealing with high-level people, they are just mostly businessmen."
How is technology changing this business? "The majority of leads that brokers are getting are from mobile," but the sharing economy will not likely affect her business. Many clients simply aren't accustomed to sharing their planes and aren't inclined to. This is a clientele accustomed to discreet and highly personal service, which Diana is prepared to offer. She has no worries about being flushed out of business by an app.
In terms of growth for the company, Diana is working on a guide to booking private flights for personal assistants, to help them understand how to find deals or a last-minute seat on a jet that may be returning empty to its base. In addition, there is a large, growing demand to service developing countries and Diana, being both bilingual and experienced in dealing with new cultures and international regulations is perfectly positioned to capture market share. "We are also considering a base office in a European city to give us greater flexibility and faster service."
What keeps you up at night? "I handle all the finances for the company and due to foreign exchange rates, etc, there are always unexpected bills. But I have an excellent network of organizations I belong to from which I can stay updated on the industry, regulations and running the business. We belong to National Business Aviation Association which is very helpful."
Final thoughts: "In New York I am part of the Women's Venture Fund and the National Association of Professional Women that both foster environments for sharing and learning.
Many young women feel as though everything has been done already and that simply isn't true. They feel they need to do four or five things at the same time. That's fine when you're starting out but you really want to amass as much knowledge as possible in your field because your value is your expertise. It doesn't necessarily have to come from formal education. If you are disciplined enough you can become an expert.
Find a field you really like. It's going to get hard, no matter what, so you might as well be willing to get through the terrible times in something you enjoy. And finally—don't improvise. Amass your expertise."
Follow Jet D'Or
________________________________________
Joe Hefferon is a writer and retired police captain living in Toms River, New Jersey. He has recently completed a novel, "The Unlost," due out in 2015. Hefferon is a regular guest writer and has published a series of articles featuring inspiring women.
He can be reached at hefferon.joe@gmail.com or Twitter: @HefferonJoe