Depreciation Deductions for State Taxes
States with Differences in Section 179 Deductions and Bonus Depreciation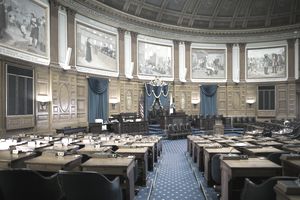 What are Section 179 Deductions and Bonus Depreciation?
Businesses who buy assets (like equipment, furniture, computers, and vehicles) take the expenses for the cost of these assets over time, not just in one year. 
But, in order to give businesses an incentive to buy assets and stimulate the economy, Congress has enacted laws to allow businesses to accelerate (speed up) depreciation. This acceleration gives businesses more deductions in the first year of the life of the asset, reducing their business taxes.
Only certain assets (called depreciable assets) can qualify for these accelerated depreciation deductions. 
A Section 179 deduction is one of these accelerated depreciation benefits, along with bonus depreciation. In past years, the amounts of the Section 179 deduction varied, but the most recent law (December 2015) increases and makes permanent these deductions. 
Section 179 deductions are allowed up to a limit of $500,000 by the IRS for 2015 business purchases and into the future.  
Bonus depreciation is an accelerated depreciation for purchase of new business assets, in addition to the Section 179 Deductions. Starting in 2015, bonus depreciation incentives will be set as follows: The bonus depreciation amount will be at 50% for 2015, 2016, and 2017, reduced to 40% for 2018 and 2019. 
State Laws for Section 179 Deductions and Bonus Depreciation
Some US states don't conform to the IRS limits and regulations on Section 179 deductions and bonus depreciation.
Some states conform with one or the other, while other states don't conform with either.
Here is a detailed chart showing which states do  and don't conform to both federal Section 179 and bonus depreciation limits, from ThompsonReuters Tax. 
How Do These State Laws Affect My Business Taxes? 
These state regulations don't affect your business's federal income taxes, but they will affect your state business taxes for all states in which you do business.
If your state imposes a tax on business income, and the state doesn't comply with the federal guidelines, it will affect your business taxes for the year. 
The Tax Foundation says: 
Forty-six states allow Section 179 deductions. Of the remaining four, three do not levy corporate income taxes and the fourth (Ohio) does not make allowances for federal expense deductions against its gross receipts tax.
For those states that don't comply with the federal regulations, the state limits for Section 179 deductions and bonus depreciation are typically lower. This means that doing business in that state is costing you a loss of deductions. 
A Note on Changes: The information about which states conform to federal regulations and which don't is current as of 2015. But state laws change frequently, so this information should not be relied on for future years. Check with your tax preparer or contact your state's taxing authority for more information or the most recent tax laws in your state. 
A Disclaimer: The information in this article and on this site is intended to be general and is not intended to be tax or legal advice. Check with your tax preparer before making business decisions that can affect your taxes.
 Back to All About Depreciation