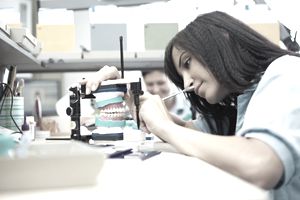 Job Description
Dental technicians, manufacture dental prosthetics including bridges, crowns and dentures according to specifications dentists send to them. They work in specialties that include orthodontic appliances, crowns and bridges, complete dentures, partial dentures or ceramics. Dental technicians are also called dental laboratory technicians.
Employment Facts
Dental technicians held 39,000 jobs in 2012.
They typically work full time. Most work in small laboratories but some work in laboratories that employ hundreds of technicians.
Although some community colleges and technical schools offer formal instructional programs, most people who want to work in this occupation receive only on-the-job training. In an entry level job one will learn how to do simple tasks like pouring plaster into an impression a dentist has made of a patient's teeth. As one progresses on the job, he or she will learn how to make crowns and dentures.
Why Do You Need to Know About Educational Requirements
Other Requirements
Some dental technicians choose to become certified although it is not required. The National Board for Certification, an independent board established by the National Association of Dental Laboratories, offers voluntary certification which is based on experience and an exam.
To work in this occupation one needs certain soft skills, or personal qualities.
Because they work with their hands, dental technicians need excellent manual dexterity. They also need good vision and the ability to keep their arm and hand steady while working for long periods of time. They must be detail oriented and creative. They also need good time management skills. Strong critical thinking skills will aid them in solving any problems they encounter and good listening and oral comprehension skills will allow them to understand instructions.
Advancement Opportunities
Experienced dental technicians who work in large laboratories may become supervisors or managers. Some may teach or work for dental suppliers. Others may open their own laboratories.
Why Do You Need to Know About Advancement?
Job Outlook
The US Bureau of Labor Statistics predicts that employment growth for dental technicians will be slower than the average for all occupations through 2022.
Why Do You Need to Know About Job Outlook?
Earnings
Dental technicians earned a median annual salary of $36,830 and median hourly wages of $17.71 in 2013.
Use the Salary Wizard at Salary.com to find out how much dental technicians currently earn in your city.
A Day in a Dental Technician's Life
These are some typical job duties taken from online ads for dental technician positions found on Indeed.com:
Trim and pour denture models.
Fabricate porcelain veneers for crowns, fixed dental prostheses, implant restorations, and all-ceramic crowns using ceramo-metal techniques.
Build and finish porcelain fused to metal restorations.
Finish full and partial dentures with and without implants.
Fabricate accurate models from doctor's impressions.​
Maintain dental laboratory records and prepare reports on laboratory activities
Sources: Bureau of Labor Statistics, US Department of Labor, Occupational Outlook Handbook, 2014-2015 Edition, Dental and Ophthalmic Laboratory Technicians and Medical Appliance Technicians, on the Internet at http://www.bls.gov/ooh/production/dental-and-ophthalmic-laboratory-technicians-and-medical-appliance-technicians.htm (visited April 1, 2015).
Employment and Training Administration, US Department of Labor, O*NET Online, Dental Laboratory Technicians, on the Internet at http://online.onetcenter.org/link/details/51-9081.00 (visited April 1, 2015).