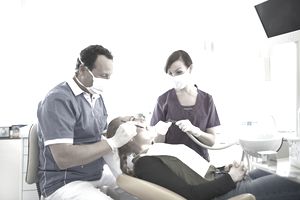 At your dental assistant interview, be prepared to answer job-specific interview questions, as well as questions that are focused around working with coworkers, patients and supervisors in a team environment.  If you are hoping to land your first job as a dental assistant, highlight both your classroom training and the hands-on experience you gained while earning your dental assistant certification.
Classmates are Teammates
In many cases, a school environment is very much focused on teamwork. Therefore, translate your classroom experiences into examples of teamwork that you can share with the interviewer. For example, describe a team project, and explain how the team roles were selected, the role you were selected for, and how you collaborated with your team members to complete the assignment. 
Bringing Up the Past
Regardless of whether you are just starting out or have many years of experience in the field, it is important to prepare for your interview. If you are an experienced dental assistant looking for a new position, the interviewer will likely ask questions about your previous job. Prepare for questions about your specific job duties, including tasks that were not directly related to dental assistant work.
Review copies of past performance evaluations, so you can share highlights about your accomplishments.
In many areas, the dental health community is small, so under no circumstances should you criticize your previous employer or speak ill about your past experience working in a dental office.
During every interview -- dental assistant or otherwise -- always convey positive working experiences in your interview responses.
This is not the time to complain about your last boss, your coworkers or your dental assistant responsibilities. 
Dental Assistant Interview Questions
Describe the steps you use to sterilize and disinfect dental equipment.
How much chair-side experience do you have? Describe two chair-side experiences where you felt entirely comfortable and another one that you felt was a struggle.
Are you more comfortable working with children or adults? Why?
Do you have any laboratory experience, such as making casts of teeth and temporary crowns?
What are the principles you follow for delivering superb customer service to patients?
Do you have experience maintaining dental records? Do you have other office or administrative experience?
What experience do you have with preparatory dental procedures?
Are you CPR-certified?
Describe a time when you worked on a team, and there was a disagreement between two people. How did you handle the situation?
How do you work under continuous direct supervision? Explain how you react to constructive criticism?
Why do you want to work for our practice in particular?