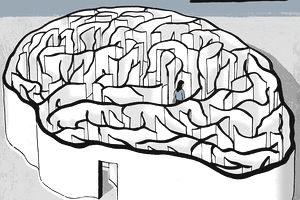 Deinstitutionalization is a government policy that moved mental health patients out of state-run "insane asylums" into federally funded community mental health centers. It began in the 1960s as a way to improve treatment of the mentally ill while also cutting government budgets.
In 1955, the number peaked at 558,000 patients or 0.03 percent of the population. If the same percentage of the population were institutionalized today, that would be 750,000 mentally ill people.
 That's more than the population of Baltimore or San Francisco. 
Effects
Between 1955 and 1994, roughly 487,000 mentally ill patients were discharged from state hospitals. ​That lowered the number to only 72,000 patients. States closed most of their hospitals. That permanently reduced the availability of long-term, in-patient care facilities. By 2010, there were 43,000 psychiatric beds available. This equated to about 14 beds per 100,000 people. This was the same ratio as in 1850. (Source: "Timeline: Deinstitutionalization and Its Consequences," Mother Jones, April 29, 2013.)
As a result, 2.2 million of the severely mentally ill do not receive any psychiatric treatment at all. About 200,000 of those who suffer from schizophrenia or bipolar disorder are homeless. That's one-third of the total homeless population. Ten percent are veterans who suffer from post-traumatic stress disorder or other war-related injuries.
(Source: "Deinstitutionalization and the Homeless Mentally Ill," Hospital Community Psychiatry, September 1984, 35(9), 899-907.) 
More than 300,000 are in jails and prisons. This means 16 percent of all inmates are severely mentally ill. There were about 100,000 psychiatric beds in both public and private hospitals.
That means there are more than three times as many seriously mentally ill people in jails and prisons than in hospitals. (Source: "Deinstitutionalization: A Failed History," Treatment Advocacy Center. "Deinstitutionalization: A Psychiatric Titanic," Frontline, May 10, 2005.)
Three Causes 
Three societal and scientific changes occurred that caused deinstitutionalization. First, the development of psychiatric drugs treated many of the symptoms of mental illness. These included chlorpromazine and later clozapine.
Second, society accepted that the mentally ill needed to be treated instead of locked away. Third, federal funding such as Medicaid and Medicare went toward community mental health centers instead of mental hospitals.  (Source: "Reducing Mass Incarceration: Lessons from the Deinstitutionalization of Mental Hospitals in the 1960s," Ohio State Journal of Criminal Law, 2011.)
History
1946 - Congress passed the National Mental Health Act. It created the National Institute of Mental Health in 1949. The Institute researched ways to treat mental health in the community. 
1954 - The Food and Drug Administration approved Thorazine, known generically as chlorpromazine, to treat psychotic episodes. The only other treatments available at the time were electroshock therapy and lobotomies. There were only 7,000 psychiatrists, 13,500 psychologists and 20,000 social workers in the entire country. (Source: "Health in Mind," Richmond Fed Econ Focus, Second Quarter, 2013.)
1955 - The number of patients in public mental health hospitals reached a record of 558,000. They suffered from schizophrenia, bipolar disorder and severe depression. Many had organic brain diseases such as dementia and brain damage from trauma. Others suffered from mental retardation combined with psychosis, autism or brain damage from drug addiction. Most patients were not expected to get better given the treatments at the time. Congress passed the Mental Health Study Act of 1955. It established the Joint Commission on Mental Illness and Health to evaluate the nation's mental health situation. 
1961 - The Commission published its findings in Action for Mental Health. It recommended that community health centers be set up to treat those with less severe mental illnesses.  Its research estimated that 20 percent of the population suffered from some form of mental illness and distress. The Commission focused on treating these disorders to prevent them from becoming more severe. (Source: "Recognition and Prevention of Major Mental and Substance Use Disorders," American Psychological Association, p. 57.)
1962 - Ken Kesey published One Flew Over the Cuckoo's Nest. It was a fictional story about abuses in a mental hospital. The author dramatized his experiences as a nurse's aide in the psychiatric wing of a California veteran's hospital. The book helped turn public opinion against electroshock therapy and lobotomies. These were procedures commonly used at the time.
1963 - President John F. Kennedy signed the Community Mental Health Centers Construction Act. It provided federal funding to create community-based mental health facilities. They would provide prevention, early treatment and ongoing care. The goal was to build one per every 125,000 to 250,000 people. That many centers would allow patients to remain close to their families and be integrated into society. But it ignored statistics that showed 75 percent of those in hospitals had no families. (Source: "Community Mental Health Centers," MindDisorders.com.)
1965 - President Lyndon B. Johnson signed the Social Security Amendments of 1965. It created Medicaid to fund health care for low-income families. It did not pay for care in mental hospitals. As a result, states transferred those patients into nursing homes and hospitals to receive federal funding.
1967 - California's Governor Ronald Reagan signed the Lanterman-Petris-Short Act. It limited a family's right to commit a mentally ill relative without the right to due process. It also reduced the state's institutional expense. That doubled the number of mentally ill people in California's criminal justice system the following year. It also increased the number treated by hospital emergency rooms. Medicaid covered those costs. Other states followed with similar involuntary commitment laws.
1975 - The film, "One Flew Over the Cuckoo's Nest," hit theaters. Jack Nicholson's Oscar-winning portrayal of a mistreated patient further turned public opinion against mental hospitals.
1977 - Only 650 community health centers had been built. That was less than half what was needed. They served 1.9 million patients. They were designed to help those with less severe mental health disorders. As states closed hospitals, the centers became overwhelmed with those patients with more serious challenges. 
1980 - President Jimmy Carter signed the Mental Health Systems Act to fund more community health centers. But it focused on a broad range of a community's mental health needs. That lessened the federal government's focus on meeting the needs those with chronic mental illness. (Source: "Public Policy and Mental Illnesses," The Milbank Quarterly, September 2005, 83930, 425-456.)
1981 - President Reagan repealed the Act through the Omnibus Budget Reconciliation Act of 1981. It shifted funding to the state through block grants. The grant process meant that community mental health centers competed with other public needs. Programs like housing, food banks and economic development often won the federal funds instead. 
1990 - The Food and Drug Administration approved clozapine to treat the symptoms of schizophrenia. That strengthened the prejudice against hospitalization of the mentally ill.
2004 - Studies suggest approximately 16 percent of prison and jail inmates or roughly 320,000 people were seriously mentally ill. That year, there were about 100,000 psychiatric beds in public and private hospitals. In other words, three times as many mentally ill people were in jail than in a hospital.
2009 - The Great Recession forced states to cut $4.35 billion in mental health spending in three years.
2010 - The Affordable Care Act mandated that insurance companies must cover mental health care as one of the 10 essential benefits. That included treatment for alcohol, drug and other substance abuse and addiction. Patient co-pays could be as high as $40 a session. The number of therapist visits could be limited. (Source: "Timeline: Deinstitutionalization and Its Consequences," Mother Jones, April 29, 2013.)
Pros 
Deinstitutionalization successfully gave more rights to the mentally challenged. Many of those in mental hospitals lived on the back wards for decades. They received varying levels of care. It also changed the culture of treatment from "send them away" to integrate them into society where possible. It especially benefited those with Down's syndrome and other high-functioning mental disorders. 
Cons 
Many of those released from institutions were severely mentally ill. They were not good candidates for community centers due to the nature of their illnesses. Long-term, in-patient care provides better treatment for many with severe mental illnesses. 
There wasn't enough federal funding for the mental health centers. That meant there weren't enough centers to serve those with mental health needs.  It also made it difficult to create any comprehensive programs. Mental health professionals underestimated how difficult it was to coordinate community resources scattered throughout a city for those with disorders.
The courts made it almost impossible to commit anyone against their will. That's true regardless of whether it was for the person's own safety and welfare or for that of others. 
Deinstitutionalization and Mass Murders
Could deinstitutionalization have contributed to the rise of mass shootings? Since 1976, there have been 20 mass murders a year on average. J. Reid Meloy, Ph.D., is a forensic psychologist who studied them. He found that mass murderers suffer mental illnesses that range from chronic psychotic disturbances and schizophrenia to paranoid disorders. They have the paranoid, narcissistic, and schizoid traits of personality disorders. 
These were not normal people who simply "snapped." Instead, they suffered for years from untreated or poorly treated mental illness. Most planned the shooting for years. Meloy argues that behavioral threat assessments are available. Using these proactively are our best hope of prevention. (Source: "Seven Myths of Mass Murder," Psychology Today, April 21, 2014.)
Dr. Alan Lipman, an expert in the psychology of violence at George Washington Medical Center, agrees. He said that mass killers typically fall into one of three categories. They are either a psychotic, a sociopath or psychopath, or a man between 16 and 25 who is depressed and violent. 
But regulations to protect the rights of the mentally ill hinder treatment. For example, families can't commit someone unless they've already proved a threat to themselves or someone else. Judges cannot order seriously mentally ill people to stay in treatment. People are not allowed to remove guns from mentally ill people who threaten themselves or others. Reversal of these rules would allow family members to get treatment for their mentally ill loved ones and protect society.