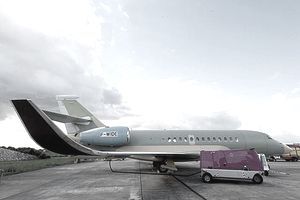 Dassault rolled out its newest super mid-sized business jet, the Falcon 5X, marking a significant milestone for the wide-body aircraft. Earlier in 2015 at the European Business Aviation Convention & Exhibition (EBACE) Dassault warned that the aircraft certification timeline might be affected by engine manufacturer delays, possibly by 'several months', but that testing continues on the twin-engine jet.
The Falcon 5X is a super midsized long-range jet. Announced in October 2013 after years of design and development under the name Falcon SMS, it was first powered up in 2014. The 5X rolled out of the Dassault factory at Bordeaux–Mérignac Airport on June 2nd to a crowd of customers, media representatives, and industry partners, and is expected to fly later in 2015 with certification following in 2016. Comparable to the Falcon 7X, which has a third engine, slightly smaller fuselage diameter, less cabin space and a longer range, the 5X has two engines, bigger windows and more room in the cabin while still maintaining a comparable range, modern avionics and business aviation's most advanced fly-by-wire system found in the 7X. 
The design of the 5X has other major improvements over the 7X, notably a new engine and wing design. Designers also set out to maximize cabin space and improve lighting - both features that customers have demanded, according to Dassault.
The Falcon 5X has an impressive range still - it can fly from New York to London City without stopping, yet has the ability to land on shorter runways due to its wing design, which is optimized for both high and low performance flight. And with the (albeit delayed) French-built Snecma Silvercrest engines (which Cessna also chose for the Citation Longitude) customers should see about a 15% improvement in fuel efficiency.
According to Snecma, its Silvercrest engine is the first business aviation engine that doesn't have required overhaul intervals.  Manufacturers may even be able to avoid overhauls altogether since engine maintenance is done "on-condition."
Dassault currently has two Falcon 5X test aircraft in service: s/n 01 and s/n 02, both involved in ground testing. The company says its ready to move ahead to static and fatigue testing with both aircraft.
The Falcon 5X is being developed at the same time as the larger super long-range Falcon 8X, which is currently in flight testing and slated to enter service in 2016.