What Customer Service Skills do Construction Project Managers Need?
How can construction managers "wow?"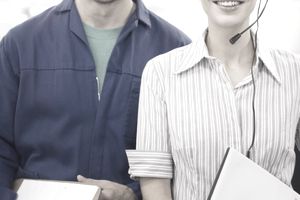 Customer service is an essential factor of any business and construction management is no exception. With growth slowing significantly in the industry, losing 1,000 jobs in March 2015, construction management companies need to go the extra mile to stay ahead of their competitors. Providing excellent customer service is a great way to do so, and will generally lead to sustaining profits, flexibility for the company, and new contracts.
Below are ways that construction companies can improve customer service:
Single point of contact – providing the customer one single contact will go lengths into ensuring that customer's satisfaction. Conversely, pushing that customer to other departments or staff within the company will frustrate the customer and lead to a lower perceived value.
Use your profits – when profits are high in your company, money should be reinvested into the company's customer service. This has proven to lead to continued high profits. When a customer remains happy with a company's product and service, the company can raise prices without protest or fear of the client leaving, thus further increasing profitability.
Scope letter - a company should always ensure that its scope letter in the bid process is as clear as possible and that it can be easily understood by its intended audience. This will provide the customer with a positive perceived value from the start
Constant communication – a company should always be updating a customer, particularly during the bid process where it is crucial to explain what you can and cannot do for the customer.
Manage subcontractors and vendors – making sure your subcontractors and vendors provide positive customer service is as important as making sure you and your staff do. Any shortcomings these other businesses may have will be perceived as your company's own shortcomings and will waste your efforts towards positive customer service.
Pay attention – a company must pay close attention to every detail of the project to be able to provide adequate customer service, especially during the pre-construction phase. During this phase, the company should be paying as much attention to providing the best possible customer service as it is to how the project will be completed.
Establish a project contact list - publish the lines of communication between the customer and the key members of a project team. This list must include the subcontractors and vendors so that the customer will always know who he or she can contact directly to solve a problem or get the desired information.
Requests for Information – a company should utilize RFIs in order to build on its relationships with owners, architects, and engineers.
Manage the schedule – always remember that completing a project on time saves both the company and the customer money. Work with the customer on ways to complete the project quicker. This is not something that construction management companies often endeavor to do and will be greatly appreciated by the customer. Consider using construction management software to ease this process.
Provide billing – adapt a billing format to fit the customer's own format. This will convenience the customer at little extra cost and effort to the company.
Provide compliance information – always provide the customer timely compliance information to maintain the cash flow of your customer. Failure to do so for items like lien releases and certified pay rolls may have a negative impact on your customer service and perhaps the entire project.
Provide an effective submittal – by providing a professional and thorough submittal in a timely manner, the customer will positively judge your company at the first major process. Use a template for your cover sheet that meets specifications. Make sure the document is easy to read and understand and that it contains your company's logo. Provide a submittal log to track the processes. Also, supply a number of copies of the submittal to the customer.
Safety plan – provide a safety plan to your customer per construction phase. This will project how the company is proactive on the issue. Also, make sure all the company's crew members are wearing their requisite protective equipment and that the equipment is all consistent. Hold weekly safety meetings with your crew and send copies of the proceedings of those meetings to your customers.