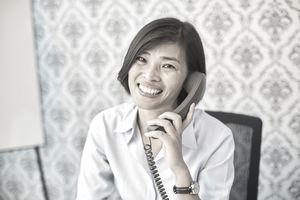 Are you applying for a customer service position? If so, you'll want to emphasize some of the soft skills commonly required for customer service employees, such as being a good communicator and having strong people skills, in your resume. Employers will also be looking for punctual and responsible candidates, since customer service workers often handle cash registers and replace other employees during shift changes.
What to Include in a Customer Service Resume
A strong customer service resume will demonstrate these core skills mentioned above. You may also want to include customer service keywords throughout your resume. List any previous customer service positions you have held. If you haven't worked in customer service in the past, think about ways your work experience demonstrates that you have the abilities required for a customer service position.
The most important elements to include in your resume are your contact information, education, and experience. Another optional way to highlight your customer service abilities is to list them out in an a skills section.
Other optional sections that you can include are a resume objective or resume profile. Use the objective or profile to specify what role you are looking for, along with the talents and abilities you'd bring to the position.
If you do not have direct customer service experience, use these spaces to demonstrate how you still have relevant experience and strengths that would make you a good match for the position. 
Customer Service Resume Example
The following is an example of a resume for a customer service job. Note the consistent formatting throughout the document, and the clear language used in the bullet points describing each previous job held.
You do not have to include every tiny responsibility held in each position. Instead, provide the most relevant information and group together similar tasks. Here's more information on how to write job descriptions for a resume.  
Use this sample resume below as an inspiration when creating your own resume geared toward working in customer service. Do not copy it precisely — your resume should be a unique document, highlighting your own work history and strengths. This sample is a helpful way to get a sense of the language used in customer service resumes, and what information is best to include. 
John Applicant
123 Main Street
Albany, NY 12345
(111) (111 -1111)
John.Applicant@email.com
Experience
Customer Services Specialist
Brand Buys, Saratoga Springs, NY
May 20XX - Present
Assist customers with returns, purchasing store protection plans, and service packages.
Scheduling in-home services via online interface.
Answer telephone inquiries from customers and stores regarding the status of units and other service issues.
Assist with new employee training including store policies, services, financing options, and register operations.
Customer Service Assistant
Saratoga Springs City Hall, Saratoga Springs, NY
September 20XX – May 20XX
Assist clientele as they enter office and via phone.
Perform filing and data management, as well as drafting and editing short office memos.
Assist with all other office administrative duties.
Office Assistant
Skidmire College, Saratoga Springs, NY
September 20XX– May 20XX
Inputting data, office errands, internship, and alumni updates.
Scheduling appointments and assisting students register and find information.
Education
Hunter College
Bachelor of Arts in English, department honors

Skills
Ability to work with several operating systems, including Windows and Mac
Excellent communication and interpersonal skills       
Experience with maintaining office budget
How to Write a Customer Service Cover Letter
If you will be submitting a cover letter with your resume, review this sample customer service cover letter to get tips for writing your own.
Your cover letter should highlight your most relevant qualifications and skills as related to the job for which you're applying. You don't need to include everything from your resume on your cover letter.
Customer Service Interview Questions
Here are common interview questions you may get during an interview for a position in customer service, and here are recommendations for how to answer questions about what it means to provide good customer service.
What Else You Should Know: How to Write a Resume | Resume Examples | Top 10 Resume Writing Tips | Career Summary Definition | How to Write a Resume Summary