Crush It with Your Very Own Event Management App
An Outstanding Event Management Solution for Your Next Event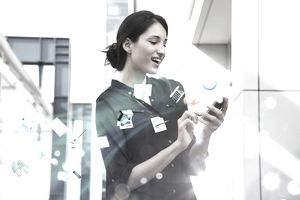 It's absolutely critical that the attendees at your next event have all the information they require on hand and readily accessible. Absolutely the best way to ensure that you cater to this requirement is to develop your very own event management app.
These days, with the technology that is available to you, this is not as daunting a proposition as it may seem at first. Event planners everywhere are using event software and in particular mobile apps to ensure a good flow of essential information to delegates.
A mobile app is easy for attendees to view on their laptops, tablets, and mobile phones and they much prefer to use an app than lug around weighty catalogs, floor plans and other paper-based information. Additionally, they are able to use your app even without wireless internet or a cell phone signal.
Let's look at how you can crush it with your very own event management app.
Who is an Event Management App For?
Regardless of the size of your organization, the complexity of your event or your budget, your own event management app is easy to build and manage.
Every special event should have its own mobile app and for some very good reasons. Initially, you might think of an event management app as being a cost, it can actually present you with huge savings over the expense involved in producing traditional paper-based content.
Here are some of the very real benefits your very own event management app can deliver for you.
Cost Savings
Consider for a moment the cost of producing the multitude of printed matter that goes with any special event. Event planners have come to realize that, by developing a mobile app, substantial cost savings can be made when compared to going the traditional route.
When you plan your next event, do the numbers.
In other words, compare your budget for printed matter against that of having a mobile app developed for the event. We think you'll be pleasantly surprised by the comparison and in the process, you can save a tree or two!
Accuracy of Information
Another major benefit of using a mobile app as opposed to printed matter is the immediacy and the accuracy of information.
It's a simple matter to update your app and this can usually be done in seconds. Now, compare and contrast that to the hassle involved in updating printed matter. We're sure you'll agree that your event management app is a far more practical and workable option.
Increased Engagement
Having a hands-on, easily accessible agenda as part of your mobile app will substantially increase engagement with your attendees. The should also be available as a web-based version that can be viewed by attendees ahead of time. This allows them to plan their event experience, make notes and of course personal to-do lists.
Customizable Maps & Floor Plans
Maps and floor plans included in your mobile app should be fully interactive and allow delegates to zoom in and out at will to orientate themselves with your event. You can also link to event information such as session times and give appropriate directions.
Generate Income via Sponsorship
By incorporating sponsored advertisements into your mobile app you immediately open up a whole new possibility and revenue stream for your company. Sponsors are very keen to be featured as responses are easily measurable and quantifiable. This is a much more targeted approach than normal blanket advertising in the form of banners and posters for example.
Easy Communication
Communicating with your event delegates is a simple matter via your mobile app. By using push messaging you can talk to attendees at will and know that your communication is both immediate and effective. The vast majority of people read messages that pop up on their mobile phones at once, as a matter of course.
Real-Time Feedback
Using your mobile app to ask for feedback in real-time is invaluable.
Delegates are far more likely to give honest feedback when they are actually engaged in a presentation or event session than post-event. Just another way a mobile app trumps the more traditional approach of paper-based feedback.
You Need an Event Management App!
Although we've only just scratched the surface of what a mobile app can do for you and your next event, we hope we've proved that you can crush it with your very own event management app.
A mobile app is cost effective, efficient and productive – you need one for your next event!