Crowdfunding for Nonprofits: 5 Tips That Always Work
Make Your Goal Tangible and Your Campaign Fun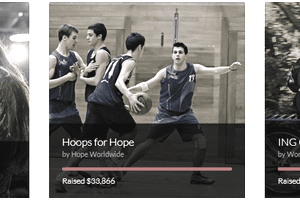 If you were a creative a few years ago, your projects were held back by a lack of funding. Thanks to the growth of crowdfunding, funding follows inspiration more readily and empowers artists to create and share their work more quickly than ever.
Nonprofits and social good projects have been applying a similar approach to their causes. In the same way, crowdfunding for creative ventures turns fans into producers, crowdfunding for nonprofits turns supporters of a cause into social good investors.
Before you start crowdfunding for nonprofits, figure out if it's the way to go. Crowdfunding is usually suited to endeavors with tangible results -- like a building project, or scholarships.
When you're ready to start, here are five nonprofit crowdfunding tactics that always work:
Use compelling storytelling


A compelling and engaging impact story is key to any nonprofit crowdfunding campaign. To draw a crowd, you'll need something to attract attention - and who doesn't love a good story?

In telling your story, clearly identify the protagonist, the goal, and the obstacles coming between the two. This will help your audience figure out where they fit in the narrative, and how they can help.

Create a fun challenge


With nonprofit crowdfunding, the more, the merrier, so offer a merry-making activity.

Some examples that work well include:

Fun activities might be just the ticket for removing someone's inhibition. For example, your brother and his friends have always wanted to grow out their facial hair but never had a good reason for it. Now they can groom (or not) their gnarly mustaches and beards for a noble cause, like cancer research. This, in turn, generates buzz that invites new participants to join in on the fun.
Integrate peer-to-peer fundraising


Having a central website for your crowdfunding campaign is a given and would probably be sufficient. But wildly successful campaigns can make progress by opening additional channels for your participants to navigate.

Providing multiple outlets for people to plug into the campaign makes it easy for people to add themselves to the crowdfunding crowd. Here are two ways how:

Personal fundraising pages

Allow supporters to create their own fundraising page on your nonprofit crowdfunding website.

Personal pages are sub-pages of the main campaign page that allow supporters to share their unique perspective and story on the fundraising campaign. They're also like branches that members of your supporters' networks can grab onto.

Team fundraising pages

If there's a competitive element to your campaign, allowing supporters to form groups among themselves and fundraise as teams add to the fun of the campaign.

Making fundraising a team effort also helps keep participants accountable and likely to contribute to the cause in a timely fashion.
Get endorsed by social media influencers


Because your nonprofit crowdfunding campaign activity happens mostly online, getting the thumbs-up from a social media influencer accelerates the progress.

When a social media influencer gets on board with your nonprofit crowdfunding campaign, she's lending her audience's trust to you, so steward it well. Remember that social media influencers are people, not tools; so approach them accordingly, as though you were forming new acquaintances. Friendships are their own reward.

But treating them as means to your ends, however, noble your cause, will be obvious to them and may even damage your reputation.

Use fundraising perks and gifts carefully


Most people give to charity to be altruistic or because being generous makes them feel good. For them, gratitude and the knowledge that they've done something meaningful are sufficient rewards.

Few donate to get something material. So while offering perks aren't required for running a nonprofit crowdfunding campaign, it might get your foot in the door.

The perks should relate to the overall mission of your organization. For example, if your nonprofit champions microenterprise in East Africa, an appropriate gift would be a product - a scarf made by AIDS widows, let's say - made by the campaign's beneficiaries.
Wrapping up, crowdfunding for nonprofits is like a good party. It tells a great story; it's fun, it's open and easy to invite others, it's well-amplified and offers a nice token of appreciation to its guests.