Crime Scene Clean Up Careers
Consider an Unconeventional Career as a Crime Scene Clean Up Specialist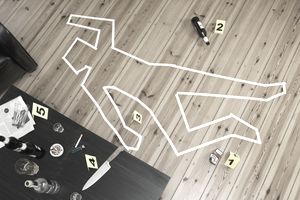 Long after the police patrol officers have taken down the crime scene tape, the police detectives have gone home, and the crime scene investigators have gathered their last pieces of evidence and taken them to the lab for forensic scientist to inspect and analyze, someone has to be there to clean up the mess that's left behind. Thankfully, there is money to be made and lucrative careers to be found in crime scene clean up.
From vandalism and burglary to gruesome murders and other violent crimes, crime clean up specialists are there to start the process of picking up the pieces and bringing some small modicum of order back from the chaos.
It takes a special kind of person to don the bio-suit and get to work on cleaning up some of these horrific sites, but you can earn quite a living in this dirtiest of dirty jobs that few people want but someone has to do.
What Do Crime Scene Clean Up Specialists Do?
Unless you've been the victim of a crime - or the unfortunate owner or caretaker of a property where a violent crime occurred - you've probably never put any thought into what happens to the scene after the criminal investigators, CSI's and first responders all go home.
Believe it or not, neither have many law enforcement agencies who investigate these crimes. Ultimately, that usually leaves the property owner responsible for cleaning up, a task few people -  let alone crime victims - want to have to tackle.
And thus the budding cottage industry of crime scene clean up was born: a group of people who specialize in taking on a job that no one wants to have to do.
As the job title implies, crime scene clean up specialists are the folks who clean up the mess that's left behind after a crime has occurred. Most often, they deal with deaths, murders, and other violent or messy encounters, which means they spend much of their time cleaning up potentially bio-hazardous materials like blood and human waste.
Though best know as crime scene clean up specialists, crime and trauma decontamination (CTS Decon) is a better description of what their job actually entails. In fact, these decontamination professionals are called in to handle some of the grossest and most gruesome scenes you can imagine, including suicides, decomposing corpses, hoarders, murders, unfortunate industrial accidents and even mass killings -  which could include bombings, shootings or other multi-trauma events.
The job of a CTS decon specialist is to thoroughly clean and disinfect scenes of suicides, homicides, bio-hazardous events, natural deaths, hoarding and other potentially dangerous environments to make them safe again.
What Skills or Education Do Crime Scene Clean Up Specialists Need?
One great thing about a job in crime scene clean up is that there are few actual skill or education requirements to do the job. In fact, you very likely qualify for the job right now. What you do need is a strong stomach, a good work ethic and an understanding of how, where and why contaminations can occur and the best ways to attack them.
Obviously, the ability to clean an area thoroughly is important, which means you need to be detail- oriented and not afraid of using a little (read a lot of) elbow grease.
Given the nature of most of the scenes you'll be called to clean up, soft skills like showing compassion, empathy, and interpersonal communication are a must.
One critical area of knowledge you'll need to have are the Occupational Safety and Heath Administration (OSHA) requirements for dealing with hazardous waste, biological materials, and general cleaning. You'll need to take an OSHA-approved certification course for the administration's standards and procedures in cleaning and disposing of hazardous waste.
How Much Money Can Clean Up Specialists Make?
The Bureau of Labor Statistics in the United States Department of Labor lists the average annual salary for Hazardous Materials Removal Worker - the category that best describes crime scene clean up specialists- at about $37,000 per year or $18 per hour.
Given the specialized nature of crime scene clean up jobs - and the more gruesome and less desirable aspects of the work they involve, CTS Decon workers may be able to expect to earn a little higher than the average hazardous material removal worker.
A new crime scene clean up specialist can begin earning $25 an hour or even more for on-scene clean up time, plus pay for driving to and from the scene and possibly even on-call pay. A highly skilled professional, especially one who owns and operates his or her own crime scene clean up business, can earn well over $100,000 per year.
What Are Your Chances of Getting a Job as a Crime Scene Clean Up Specialist?
The BLS data suggest that all hazardous material removal jobs are expected to increase by about 7 percent through 2024. Crime scene clean up is a niche industry within that category, and is likely to see the same or similar growth through the years. In short, if this is the job you want to do, you can expect your chances of breaking into the industry to be at or above average for other jobs in the U.S.
Is a Career as a Crime Scene Clean Up Specialist the Right Job for You?
Crime scene clean up isn't just about cleaning, it's about decontaminating potentially dangerous scenes and making them safe for people to occupy again. It's an important job that takes just the right person to get it done right.
Do you have a tough stomach and a knack for cleaning even the toughest stains or hardest of areas to reach? Do you have compassion and the desire to help people in some of their most desperate times of need? If so, then a job in crime scene cleaning may just be the perfect criminal justice career for you.