Creative Retirement Party Ideas for Your Coworker
How to Plan a Celebration That Is Both Unique and Personal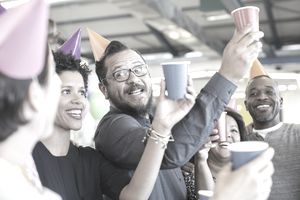 If you are planning a retirement party and you think your options are limited to a formal event with prepared speeches from bosses and co-workers, think again. Retirement is a major milestone that should be celebrated in a unique fashion while paying tribute to the retiree's past accomplishments and future endeavors. Consider these creative retirement party ideas before you get busy planning!
Build the Retirement Party Guest List
Who is hosting the party?
Is it an official company event being held during the workday or is it a function for both family members and colleagues to celebrate?
Any combination of guests can work for a retirement party, including having young grandchildren join in the celebration. It all depends on the guest of honor and their wishes. One of the fun things about planning a retirement party is that there are no particular rules that must be followed.
Honor the Retiree With Personal Touches
The way to make a retirement party special is to tailor it to the guest of honor.  Consider the following:
Commemorate With Photos: Prepare a mounted photo montage with a timeline for guests to peruse during the event. Or consider having the photographs digitally scanned so they can run on a continuous loop during the party.
Guest Book: Provide a blank guest book and invite guests to write something about the guest of honor or offer their good wishes in retirement. This will serve as a personal keepsake after the retirement party.
Speeches or Roasts? Depending upon the mood of the party, the guests and — most importantly — the retiree, will determine whether formal speeches from co-workers are most appropriate or if a roast works for this crowd. Whichever you choose, select a range of people to speak, from family members to perhaps a colleague from their first job, and so on.
Select a Retirement Party Theme
All party planners know that every good party starts with a theme. Select a theme that celebrates either the retiree's past contributions or their plan for life after retirement. If the guest of honor is moving, then explore ideas pertaining to the destination. If the climate or cuisine is different from the current locale, incorporate those elements in the décor and menu. If, for example, they will be devoting time to a favorite hobby, such as golf or painting, then use that as a backdrop for other aspects of the party.
Make the Retirement Party an Event
Instead of hosting the usual retirement party luncheon or dinner, make the retirement party itself an event. Take a cue from their hobbies and interests and choose something that the honoree enjoys doing.
Here are some ideas to get you started:
Take Everyone Out to the Ballgame: If the ballfield is where the honoree likes to spend his or her free time, then arrange a trip to a baseball game for guests. Hire a party bus for transportation to the game so guests can relax and get into the spirit. Arrange to have the retiree's name announced at the game or have a congratulations message appear on the screen inside the ballpark.After the game, gather the guests for an outdoor picnic complete with ballpark fare.
Golf Tournament: If the retiree is an avid golfer, invite guests to participate in a golf tournament. Hire a photographer to capture the day spent on the green and compile the pictures into a digital photo album. Plan a lunch or dinner afterward, where non-golfing guests can join in on the celebration, and there you can have guests speak or share comments on their experiences with the guest of honor.
Culinary Experience: Is the honoree a foodie or an aspiring chef? Then make a culinary experience the key component of your retirement party. Explore hosting a popular chef from the area to conduct a cooking demonstration, complete with tastings. Or reach out to local restaurants about providing their signature dishes for a buffet. For a fun-loving crowd, host a cook-off, with guests preparing dishes with a surprise list of ingredients, all judged by the honoree.
Retirement parties are a time to celebrate a life-long achievement. Take this opportunity to let your retiree shine and honor them with a party that is personal in every way.