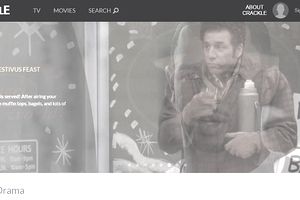 What Is Crackle?
Crackle is a website where you can watch free TV shows and full-length movies. It is owned by Sony Pictures Entertainment.
How Does Crackle Work?
Just register with the site (free), pick a show or movie that you want to watch and hit play. It's that easy. If you have a Roku, Playstation, Xbox, Apple TV, Android TV or a similar device, you can also stream videos to your TV. And if you want to watch shows on the go, there's a ​free app that you can download to your cell phone.
Get app on iTunes | Get app on Google Play | Get app for Kindle | Get app for Fire TV
Wondering how all of this can be free? It's simple. Instead of charging a membership fee, Crackle just runs the occasional commercial. It keeps the site going, and it keeps you from having to pay for the service.
Supported Devices
Crackle works across a wide-range of devices. To see if your tablet, cell phone, gaming system, TV or streaming system is supported, go here.
For the service to work as intended, you''ll need to meet these current system requirements:
Browser: Internet Explorer 7.0 or above, Firefox 3, Safari 7 or Chrome
Both JavaScript and cookies must be enabled on your device
Running Adobe Flash Player 10.0.22 or above. You can update your Flash Player for free at Adobe.com
Operating System: Microsoft Windows XP SP2, Microsoft Windows Vista, Windows 7 or Macintosh OS X
What You'll Find on Crackle
Sift through the video offerings on Crackle, and you'll find hundreds of shows (both new and old), as well as an impressive collection of full-length movies from Columbia, Tri Star, Sony Picture Classics and Screen Gems.
You'll also find original series that you can't watch anywhere else.
Make the Most of Crackle
Subscribe to your favorite shows, and Crackle will add new episodes to your queue as they become available. The site will also use this information to learn your viewing habits, so it can recommend other movies and shows that it thinks you will like
Add interesting shows and movies to your queue as you come across them, and you'll always have something to watch when you log in
Good to Know
The video library on Crackle is constantly changing, so if there's something you really want to watch, don't wait too long. It may not be available forever.
Save Money with Crackle
Use Crackle as a replacement for cable, satellite TV, movie rental services, and other streaming services that charge a subscription fee. If you cancel your Netflix or Hulu subscription and use Crackle instead, you'll save $95.88 a year. That'll buy a lot of popcorn and movie snacks.