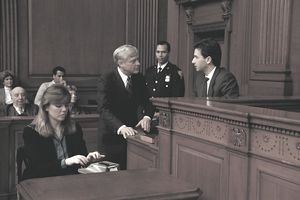 Court Reporter
A court reporter records written transcripts of spoken words at legal proceedings, for example trials, hearings and legislative meetings. Also called a court stenographer, he or she must provide an accurate and complete record of these events so that they can be referenced in the future when necessary.
Some people who are trained as court reporters don't work in a legal setting. One may caption live or recorded television broadcasts and public events for people who are deaf or hard of hearing.
He or she is called a broadcast captioner, caption writer, closed caption editor or, simply, a captioner. A communication access real-time translation (CART) provider, also called a real-time captioner, assists people who are deaf or hard of hearing by translating speech into text during meetings, doctor's appointments and classes. They sometimes accompany their clients but more often they work remotely via the Internet or phone.
Employment Facts
There were 21,200 court reporters employed in the United States in 2012. Most people work for state or local courts or legislatures and typically have full time schedules. Some courts reporters, including broadcast captioners and CART Providers, are freelancers who work on an as needed basis.
Educational Requirements
One generally trains to become a court reporter at a community college or technical school. He or she may earn an associate degree or a certificate, depending on the program.
Why Do You Need to Know About Educational Requirements?
Other Requirements
Court reporters must be licensed in some states which typically requires passing a written exam. Most training programs prepare students for this test. To find out what the licensing requirements are in the state in which you want to work, visit the Licensed Occupations Tool from CareerOneStop.
Various professional associations offer voluntary certification. While you aren't required to have this, it can make you a more desirable job candidate.
In addition to formal training and licensing requirements, to be successful a court reporter needs certain soft skills, or personal qualities. To fulfill the primary responsibility of this job, one needs strong listening skills and writing skills. He or she must be able to concentrate for long periods of time. In addition, a court reporter needs to be detail oriented.
Job Outlook
The US Bureau of Labor Statistics predicts that job growth for court reporters will be as fast as the average for all occupations through 2022. CART providers will be most in demand.
Why Do You Need to Know About Job Outlook?
Earnings
Court reporters earned a median annual salary of $48,160 and median hourly wages of $23.15 in 2012 (US).
Use the Salary Wizard at Salary.com to find out how much a court reporter currently earns in your city.
A Day in a Court Reporter's Life
These are some typical job duties taken from online ads for court reporter, broadcast captioner and CART provider positions found on Indeed.com:
Court Reporter
Attend all sessions of the court and stenographically record all court proceedings by taking full shorthand and/or stenograph machine notes of all oral testimony, rulings and remarks of the Court.
Utilize state-of-the-art recording equipment, capture notes, and proofread legal transcripts.
Identify participants by name to facilitate reporting.
Read aloud statements of participants as requested during proceedings.
Maintain stenographic records in such a way that they are readily accessible for the period of time required by law.
Broadcast Captioner
Transcribe the audio portion of a program and create a timed text track intended for use by deaf and hard-of-hearing viewers.
Listen to production and write caption phrases for dialogue.
Write captions to describe music and background noises.
CART Provider
Interpret in real-time captioning through the use of a steno machine, notebook computer and real-time software to render instant speech to text translation on a computer monitor.
Caption all verbal communication that occurs in the classroom for students who are hard of hearing or who have other communication barriers.
Troubleshoot and solve hardware/software or other technical problems with the captioning equipment.
Sources:
Bureau of Labor Statistics, US Department of Labor, Occupational Outlook Handbook, 2014-15 Edition, Court Reporter, on the Internet at http://www.bls.gov/ooh/legal/court-reporters.htm (visited February 18, 2014).
Employment and Training Administration, US Department of Labor, O*NET Online, Court Reporter, on the Internet at http://www.onetonline.org/link/details/23-2091.00 (visited February 18, 2014).