Corporate Income Tax, Its History and the Effective Rate
How the Tax Act Changes Corporate Taxes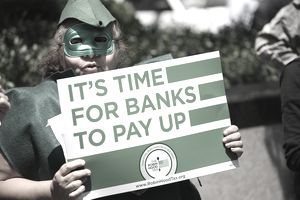 Corporate income taxes are levied by the U.S. federal government and by states on business profits. Understandably, companies try to use everything in the tax code to lower the cost of taxes paid by reducing taxable income.
The Effective Tax Rate Is 18 Percent
The 2017 U.S. tax rate is around 40 percent. That includes:
Federal tax rate of 35 percent for the highest income brackets. Beginning in 2018, Trump's tax cut lowers that to 21 percent.
State and local tax rates ranging from 0 percent to 12 percent. It averages out to 7.5 percent.
Companies deduct state and local tax expenses. That averages out to around 40 percent. 
But corporations don't actually pay the top federal tax rate. The effective rate is around 18 percent. In 2015, the Treasury Department collected $390 billion. That's just 18 percent of U.S. corporate profits of $2.1 trillion, according to Table 1.12 of the National Income and Products Accounts.
That's about half the effective rate the government received in 2007, the year before the recession. Corporate taxes were $395 billion on a profit of $1.5 trillion. 
How Corporations Avoid Paying Taxes
How do corporations avoid paying taxes? First, almost half of all corporations are "S" Corporations. These pass-through firms pay no corporate taxes. Instead, they pass corporate income, losses, deductions, and credits through to their shareholders.
The shareholders are then taxed on these profits or losses at their income tax rates. 
A second reason is that companies reinvest profits earned overseas into those markets. They might prefer to bring the cash home, but are deliberately avoiding U.S. taxes. It's actually cheaper for them to borrow at current low interest rates in the United States than to bring earnings home.
As a result, corporations are debt-heavy in the United States, and cash-rich in overseas operations.
The Tax Cut and Jobs Act seeks to change this by adopting a "territorial" system. Corporations will not longer be taxed on that foreign profit. It also allows companies to repatriate the $2.6 trillion they hold in foreign cash stockpiles. They would just pay a one-time tax rate of 15.5 percent on cash and 8 percent on equipment. 
Some corporations won't welcome the change. They've become so adept at avoiding U.S. taxes that it's become a competitive advantage. They can make more money in U.S. markets than foreign competitors because of their knowledge of the tax code and how to get around it. 
History of Corporate Taxes
Before the 1894 Revenue Act, taxes were levied on the individual owners of businesses, but not on the corporations themselves. Although the Act was ruled constitutional, it was replaced by a Tax Act in 1909, the first year that corporate taxes were levied.
The maximum tax rates below are the rates paid on the highest income levels. Please note that the definition of income changes frequently, so keep that in mind when comparing rates. 
Until 1936, all companies paid the same rate, regardless of income.
The current system is more progressive.
Year Changed
Max Tax Rate
President

Comments

 1909
   1%
Taft
.
 1916
   2%
Wilson
 
 1917
   6%
 
 
 1918
 12%
 
 
 1919
 10%
 
WWI began.
 1922
 12.5%
Harding
Finance WWI
 1925
 13%
Coolidge
 
 1926
 13.5%
 
 
 1928
 12%
 
 
 1929
 11%
Hoover
Tax cut triggered stock market crash.
 1930
 12%
 
Tax hikes to stop speculation worsened depression.
 1932
 13.8%
 
 1936
 15%
FDR 
Hike revived depression.
 1938
 19%
 
Hike to finance WWII.
 1940
 24%
 1941
 31%
 
Pearl Harbor attack triggered more hikes.
 1942
 40%
 1950
 38%
Truman
Cut to fight recession.
 1951
 50.75%
 
Hike to fund Korean War.
 1952
 52%
Eisenhower
No cuts, despite 1953 and 1957 recessions.
 1964
 50%
LBJ ​
Implemented JFK's tax cut.
 1965
 48%
 
Cut boosted economy.
 1968
 52.8%
 
Hikes paid for Great Society and Vietnam War.
 1970
 49.2%
Nixon
Cut to fight recession.
 1971
 48%
 1979
 46%
Carter
Cut to offset high interest rates.
 1987
 40%
Reagan
Tax Reform Act
 1988
 34%
 
Cut to fight recession.
 1993
 35%
Clinton
Omnibus Budget Reconciliation Act. 
 2018
 21%
Trump
Cut goes into effect.
(Sources for Table: "Corporate Tax Rates 1909-2002," IRS.  "Corporate Tax Rate and Jobs," ProCon.org.)