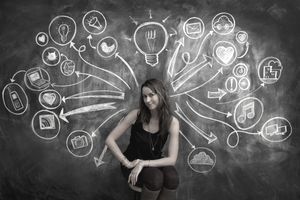 Most small business owners are in tune with the value of social media and how it opens up the lines of communication with customers in a way that generates trust and openness. Social media can truly be a game changer for small businesses becuase it's accessible to all types of businesses and requires little investment, aside from time.
There is one part of social media marketing that small business owners tend to forget, however; the creation of the content that is shared across social media sites and used to kickstart conversations.
In fact, content marketing and social media are very closely tied. In the words of Jay Baer of Convince and Convert, "Content is fire. Social media is gasoline. Use social to drive awareness of your content more so than awareness of your company."
So what exactly is content marketing? It involves the development of content that can be shared with various audiences to boost brand awareness and engagement with your customers. Here are five types of content you can easily create and share to get your business in front of the right people and get conversations started. 
1. Blogs
If you have a small business blog, it will become integral to your content marketing strategy. And there are a many types of blog posts you can write. Editorial blogs can provide commentary on industry topics; tutorial blogs can provide readers with actionable tools; compilation blogs can provide "best of" lists or links to other content; guest posts can incorporate external voices and draw in new audiences.
You can even allow your employees to create a column on your blog in his or her own voice. 
2. Videos
Like blogs, videos can take many different formats. You can conduct interviews, share quick tips, record explainer videos, introduce your employees, or provide a tour of your business location. You can also provide on-the-scene coverage of local networking events or industry trade shows.
 Try a few of these formats to mix it up on your blog.
3. Podcasts 
Podcasts are a great way to connect with your audience in a person-to-person way. You can create a weekly "radio" show or convert your written tips, tutorials, and interviews to audio. It's a form of content that can be shared and consumed easily since most of us have smartphones and devices that can play audio files anywhere, anytime.
4. Infographics
Infographics are popular because they take data and boil it down into an easy-to-digest visual tool. Infographics are also one of the most-shared types of content out there, so they are worth the time it takes to create them. If you don't have the staff or resources to easily create infographics, check out Visual.ly to streamline the process.
5. Images
You can create highly sharable visual content without infographics by using images that can quickly be shared on sites like Pinterest and Instagram. These images can include a statistic with an eye-catching photo, an inspiring quote, or even a promotional message that leads viewers to your website. Again, you don't need a dedicated graphic designer to use visual content. Take a look at this collection of tools that will help you create sharable images quickly.
As you start developing and sharing your content, remember that you can leverage it well beyond social media. Take your best content and send it out in a weekly email newsletter, or compile your content by topic and create an e-book that can be given away as an incentive or thank you gift. There are many other types of content that may be perfect for your content marketing strategy -- case studies, guides, books, testimonials, product reviews -- so try a few formats and see what works best for your small business.