1 Major Thing Consumers Hate About Ads
Give Credit Where It Is Due - Do Not Rip Off Teddy Roosevelt's Speeches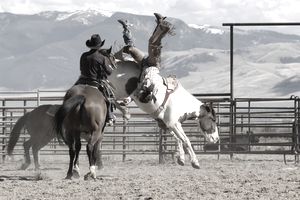 Honesty Matters
Cadillac challenges you to "Dare Greatly."  Apparently Cadillac's idea of daring greatly is not to cave to the plebeians, poets, and political science majors who like to see Presidential speeches appropriately credited.  Cadillac took out a full-page back cover ad on the February 16, 2015 issue of The New Yorker, and unabashedly quoted parts of a familiar speech by President Teddy Roosevelt.
The excerpt is from the speech "Citizenship In A Republic" that Roosevelt delivered at the Sorbonne, in Paris, France on April, 23, 1910.  ​The speech is commonly known as "The Man in the Arena" and it conjures manly pursuits such as bull fighting or bronco riding.  This is because the line
whose face is marred by dust and sweat and blood
appears in the speech thusly:
...whose face is marred by dust and sweat and blood, who strives valiantly; who errs and comes short again and again; because there is not effort without error and shortcomings...
Consumers could heed Teddy's words and appreciate that even big ol' car companies like Cadillac can make errors and exhibit shortcomings.  Or consumers could react with less benevolently.  Do consumers who respond to market research surveys really mean what they say: are authenticity and honesty attributes that consumers value in the firms they do business with?
A few other major brands are tackling print ads like a middle school essay.  Starbucks occasionally goes for an all text print ad, with perhaps a simple hand-drawn color subdued image of the Siren on a steaming cup.  But Starbucks all print ads are not pedantic; nor do the ads use quotes from famous people without attribution.
 Aflac just published an truly awful all text ad in Martha Stewart Living magazine.  The ad appears to be geared toward Gen-Xers or Millenniums, most of whom would readily ridicule the lifestyle /  cooking / home keeping magazine. Enter Cadillac.  Yet another take on the all text add, juxtaposed against tastefully greyed, edgy angled buildings featuring fire escapes.  Daring greatly in this context suggests the Great Wallenda.
Brand Relevance Matters
Cadillac's chief marketing officer, Uwe Ellinghaus, explained the new marketing campaign to Dale Buss of Forbes magazine in this way:
The Cadillac brand needs to change.  We've lost some of our old customers and we're not conquesting enough new customers-- because we lack relevance.  We need to have a new point of view to show why we're relevant and to get across how much Cadillac has changed.  You can't just put product -- even great product, which we have -- in front of people.  If the brand isn't relevant, people don't care. 
Conquesting? Conquesting enough new customers?  Ellinghaus chose an interesting word to describe how brands acquire consumer loyalty.  Arm wrestling consumers into appreciating the relevance of a brand is not quite the same as having conversations with consumers about what they value.
Cadillac has taken its Dare Greatly campaign to billboards in major U.S. cities.  Excepts from The Man in the Arena speech.  Consumers are challenged to, as Ellinghaus put it:
 "think of themselves as principled, indefatigable, impassioned contrarians"
Again, on the billboard, President Teddy Roosevelt (and his speech writer) do not get credit for the oratorical brilliance on display.  When the billboard ads first went up, no attribution at all accompanied the excerpts.  Beginning on Sunday (the night of the 87th Annual Academy Awards broadcast), this was added to the bottom of the billboard: "#DareGreatly … Cadillac."
Ellinghaus really wanted Buss at Forbes to comprehend the nature and significance of Cadillac's valiant striving:
This is a reinvention, not just a repositioning.  And it's a product renaissance as well…[Cadillac want to] 'outwit' luxury, to dare greatly and create interplay among the brand values of boldness, sophistication and optimism, and yet be inviting and approachable.  We want to inspire.  We want people to dream Cadillac again instead of demonstrating one-upmanship such as 'more horsepower,' 'more torque,' etc.
The timing is wrong for another Eminem moment for Cadillac.  The Super Bowl ad coined "Born of Fire" toured the urban icons of Detroit and dripped attitude.  The ad shows Cadillac as a beautiful creature from a gritty background.  Cadillac is American car - imported from Detroit - and viewers 'get' where this car comes from. 
Devoid of recognizable New York city icons or Oscar embracing celebrities, the new Cadillac ad called "The Arena - Dare Greatly"  leaves viewers unanchored.  And unimpressed. There is no True Grit, only grittiness.  The arena seen in the commercial consists of ordinary city streets with slo-mo folks going about their quotidian business.  Cadillac has pointedly avoided filming anything that might look like Wall Street instead of main street.  But the prices on the Cadillac sedans have not come down enough for the people featured in the commercial to afford.  If Cadillac is seeking relevance for the brand, they seem to be cruising the long block streets…in the wrong neighborhood.
Sources:
Buss, D. (2015, February 16).  Cadillac risks break from Detroit with new 'Dare Greatly' campaign.  Forbes.