Innovative Food and Beverage Brands Add Excitement to Retail Food Shopping
Out of the Box Products are the Future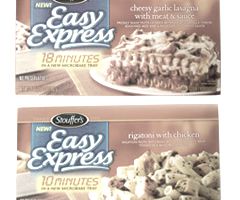 New Product Innovation is challenging when economic times are good, let alone innovating during this economy when ambiguity regarding the future and consumer trends is at an all time high. The retail supermarket sector is enormous. According to The Food Marketing Institute FMI Supermarket Facts, supermarket sales exceeded $550 Billion including the grocery component of mass merchants such as Walmart and Target.
Given the enormity of the Food and Beverage Sector, this will be one in a series of articles on Product Innovation. Let's start the series with an overall look at the landscape.
The number of Food and Beverage new product introductions dropped approximately 30% from 2005 through 2009 according to Symphony IRI. However, Brand Extensions outpaced New Brands by almost 2 to 1 in 2009.
The consumer is feeling pinched in their pocketbook. Once it was what we called "the value proposition" that helped differentiate new products. Today the tough economy has now added the Affordability Factor as significant in consumer purchase decisions. The reality is many consumers simply can't afford to experiment with unknown brands or products.
Another important issue; retailers are paying more attention to what is called Category Mangement, which is essentially grouping products into logical categories and treating the category as an autonomous profit center.
If a product is not positioned as innovative enough to expand the category as a whole, there is little interest for the most part from the major Food, Drug, and Mass Merchant retailers.
Increasingly, innovation is coming from Brand Extensions vs. a totally New Brand. The consumer finds it less risky to try a new item or what is called a Sub-Brand.
A good example of the Brand/Sub-Brand architecture is Stouffer's. Stouffer's Brand has several Sub-Brands targeted to specific consumer segments. Given the strong brand recognition, Stouffer's has had since its frozen meals first appeared in supermarkets in 1954, it is no wonder the company continues to use the Stouffer's "Over-Brand" in creating line extensions.
A good example of the Over-Brand, Sub-Brand strategy is the new EASY Express Skillets line of family style meals. These meals focus on consumers who once spent more time dining out but due to the affordability factor are seeking Home Meal Solutions that deliver restaurant quality at supermarket prices.
Besides the typical microwave/ovenable options, they also have a line of EASY EXPRESS® Skillets. All successful brands recognize they need to appeal to the consumer by going beyond Attributes and Benefits and Easy Express is designed to appeal to the consumer Belief that they are participating in the preparation of what seems to be a home cooked meal.
So why the trend in Brand Extensions?
Food and Beverage brands are going beyond Target Marketing and focusing on Customer Segmentation, which comprises narrower consumer segments that, when combined, make up today's Target Market.
Information technology is allowing companies such as Demandtec to provide brands with highly sophisticated Shopper Insight Data. A good example is Bud Light Lime, recognizing a small but lucrative niche of those who like the taste of lime in beer.
Brands that have strong brand equity want to add to that equity by taking existing lines and extending them or creating new Sub-Brands that play off of the main brand. Campbell's Select Harvest line of soups contains "real and natural" ingredients, focusing on authenticity rather than price. According to Symphony IRI, this was the "largest new food and beverage introduction in 2009."
In a future article will look at Information Resources Inc 15th annual publication of New Product Pacesetters for 2009. In this article we will explore the three major trends these brands factored into their successful product launches, namely Quick and Easy Meal Solutions, Taste & Variety and Health and Wellness.
I will briefly introduce a new concept of "Affordability" that is trumping the old Value equation which was the keystone for many consumer products up until this current recession. Stay tuned!