2016 Construction Trends
2016 Can Be Another Challenging Year for the Construction Professional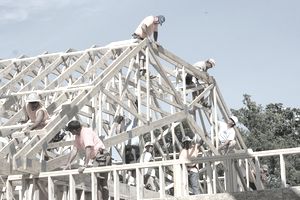 For the last couple of years, contractors and builders are struggling to maintain a steady income and business as they try to sustain the challenges and outcome of the crumbling economy. The building and construction industry, is evolving and changing into a fast-paced business keeping up with technology and finding solution to labor shortages. As 2015 winds down, the following aspects can be perceived as the emerging trends for the construction industry in 2016.
2016 Dodge Report Construction Trends
The 2016 Dodge Report has been released and the forecast is one that could be considered as very optimistic. In general, the report indicates that there will be a solid and steady progress in almost all construction areas, but these ones should be followed very closely as price changes and globalization can make changes to this projections. In general terms, the report can be summarized as follows:
There will be a growth in construction starts, by 6% up to $712 billion, of which the residential building will lead all the construction divisions with a 16% increase when compared to last year.
Single family residential buildings will rise in about 17%, after a slow start or recovery process.
Multifamily buildings will also see a large improvement. although it might go back once again during 2017.
Store and commercial centers will increase during 2016, although we have seen some closings and merges that have affected the general outcome.
Warehouse will see an increase of about 8%, up to 177 million square feet, when compared to 2015.
A significant growth will impact 2016 office construction, as more corporate properties will likely develop new headquarters or will be making adjustments to their facilities.
Hotel development will continue to be on the rising as the economy keeps driving hotel and room expansions.
2016 Construction and Building Industry Trends
During 2016, technology and labor markets will keep a dominant role within the industry and might be affecting in one way or another project schedules, budgets and project deliverables. The following list can be considered as the items to watch during 2016:
Sustainability-Customers and stakeholders will require builders and contractors to embrace sustainability by establishing net-zero building, using recycling materials, repurposing material, and using renewable energy as the sustainability industry keeps gaining momentum.
Micro-Units- Micro apartments will be the preferred option for millennials as they will be looking for small spaces having the practical necessity items needed for a decent living. These units can be developed in metro areas, presenting an affordable opportunity for young professionals.
Tech- From drones, smartphones, software and almost every technological progress can be seen as an opportunity to drive down costs, while maintaining project members informed about the latest developments every single minute. Real data will be now more important than ever.
City Hubs- Hip markets such as Austin, San Diego and Denver can be very active markets for the construction industry.
Transportation- With so many micro-apartments,there will also be needs to provide transportation to these users, and cities will be looking to adopt the idea of rapid transit bus systems.
Workforce- Shortage of construction workers will make project schedule and budgets more challenging as subcontractors will require to be paid a prime to cover cost associated to maintain, train and retain key players in their positions.