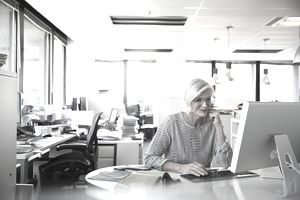 You're out of school (maybe with a degree in computer science or IT) and you're having a hard time getting noticed in the pack and you've tried everything else. This is normal, don't fret!
Consider what your resume actually says and what the posting requires - what can you add to your resume that will improve your credibility as a person who can adequately perform this job?
It may be a good idea to consider getting an Oracle certification to give your already excellent resume a little extra push.
1. Most employers use Oracle products
Oracle certifications are among the computer certifications in the highest demand by employers. That's because Oracle Corporation is the leading international supplier of enterprise software solutions for business information management and is also the second-largest independent software company worldwide.
Oracle was the first company to develop and deploy Internet-enabled enterprise software across its entire product line. Therefore, many businesses now use Oracle software products, including most Fortune 500 companies. As a result, jobs for which Oracle certifications are required or a plus are relatively plentiful. For example, a broad search for Oracle Certified at Indeed, a popular job search site, returned over 3,709 jobs.
2. It's a highly-respected certification that increases hiring potential
If you're looking for a bit of credibility to add onto your resume, this may be the way to do it.
90% of survey respondents who completed an Oracle certification feel that their resume has more credibility with the certification than it did before.
If you're looking to get your first career-track job, getting this certification is a decent way to start. You may already have the knowledge that a certification tests for but no meaningful experience to demonstrate that you have it.
A great way to display that is with a certification on your resume.
3. They're upgradable and available for every skill level
Oracle also offers upgrade paths for IT professionals who already have Oracle certifications. Level up your Java SE6 certification to a Java SE7, for example. There's a whole list of options available over at Oracle.
There's also four different proficiency levels for certification:
Certified Associate

Certified Professional

Special Accreditation

Certified Master
Each one of these levels requires a little bit more knowledge and experience than the last, finishing in a Certified Master level. If you need a goal for expanding your knowledge and getting a new showpiece for your resume, trying to level up your Oracle certification is definitely a place to consider.
Conclusion
Certifications aren't necessary to get the job you want, but they definitely can help give your resume and subsequent interviews a little extra oomph: many hiring managers will use certifications as a "first-line" to filtering out applicants based on experience.
However, there are many in the field at large that feel that if you already have that experience, a certification isn't always necessary or worth your time and money.
As always, consider what your goals are in the field before spending money on any sort of certification or education program.
Finally, if you're interested in checking out an Oracle certification, take a look at the practice tests. It can be extremely useful to see what they're all about. Oracle also maintains a blog about their courses to keep you up-to-date on their latest offerings, with reviews of each certification or course's importance to your organization and career.
---
Note: Updates have been made to this article by Laurence Bradford.