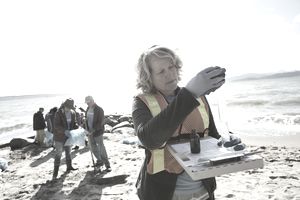 Job Description
A conservationist works with landowners and governments to protect natural resources including soil and water. They help find ways to utilize land without harming the environment. Conservationists may also be referred to as soil and water conservationists or conservation scientists.
Employment Facts
There were 22,000 conservationists employed in 2012. Most people in this occupation work for the federal government or for state or local governments.
Social advocacy groups also employ many of them and some work for private landowners.
Conservationists work in offices, labs and outdoors. Their work may be physically demanding as they sometimes spend time in inclement weather and often must walk long distances. There are dangers inherent in this occupation which include coming into contact with poisonous plants and biting insects.
Educational Requirements
To work as a conservationist you must have, at the minimum, a bachelor's degree in forestry, agronomy, agricultural science, biology or environmental science. Some people go on to earn a master's degree or PhD.
Why Do You Need to Know About Educational Requirements?
Other Requirements
A conservationist must enjoy working outdoors. He or she should be in good physical shape and must be able to do a lot of walking.
Conservationists also needs certain soft skills, or personal qualities, to excel in this occupation.
Strong listening and speaking skills allow one to take in as well as convey information. In order to detect problems and then solve them, he or she needs good problem solving and critical thinking skills. Strong analytical skills—the ability to evaluate the results of experiments and studies—coupled with excellent decision making skills—the capacity to utilize this information—are also required for success in this field of work.
Advancement Opportunities
Those first entering this field work under the supervision of experienced conservationists before themselves advancing to positions with more responsibility. Some begin working in conservation districts and then go on to positions on the regional, state or national level.
Why Do You Need to Know About Advancement?
Job Outlook
The US Bureau of Labor Statistics predicts that this field will experience little or no growth through 2022.
Why Do You Need to Know About Job Outlook?
Earnings
The median annual salary of conservationists was $61,100 in 2012.
Use the Salary Wizard at Salary.com to find out how much a conservationist currently earns in your city.
A Day in a Conservationist's Life:
These are some typical job duties taken from online ads for conservationist positions found on Indeed.com:
Make field visits to meet with producers to determine conservation needs and assist with conservation plan development.
Use hand tools (e.g. clinometer, hand level) to determine percent slope and slope length.
Conduct site inspections of on-going projects to assure that practices being installed meet specifications.
Serve as a liaison and the point of contact with ecological, safety and program support for the State Resource Conservationist.
Ensure all federal, state, departmental and district regulations are being followed.
Sources:
Bureau of Labor Statistics, US Department of Labor, Occupational Outlook Handbook, 2014-15 Edition, Conservation Scientists and Foresters, on the Internet at http://www.bls.gov/ooh/life-physical-and-social-science/conservation-scientists.htm (visited February 14, 2014).
Employment and Training Administration, US Department of Labor, O*NET Online, Soil and Water Conservationists, on the Internet at http://www.onetonline.org/link/details/19-1031.01 (visited February 14, 2014).