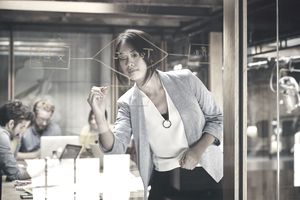 Conscious Capitalism is based on four principles: Higher Purpose, Stakeholder Orientation, Conscious Leadership and Conscious Culture and was established on the basis that a number of cultural forces are changing the relationship between business and society.
Indeed, we are all making more decisions about whom we want to work for, buy from, partner with, or allow into our communities, but also whom we want to invest in based on the idea that business can and should be a force for good in society.
This realization is a response to a history of financial myopia. In most cases, managers are rewarded based on short-term stock price maximization, creating a system where many organizations prioritize quarterly profits over sustainable growth. This allows organizations to ignore other stakeholders required to create value for the company and, paradoxically, destroys both long-term shareholder and societal value. They squeeze employees, suppliers, and government to deliver more but continue to return less value to others. The results of this mindset continue to dominate the headlines with a steady drumbeat of negative stories about corporate abuses. 
Conscious companies, and the investors that support them, are creating massive societal and financial value by embracing a different worldview – one based on the premise that shareholders are but one of an array of stakeholders that must be engaged in order to maximize the value business creates.
Employees, customers, suppliers, community members, and the environment make up an eco-system that companies must nurture in order to thrive sustainably.
Why Is This Important for Investors?
While many corporations understand the benefits of sustainable initiatives, many investors still lag behind and do not grasp the full financial opportunity presented by sustainability and the future threats created by ignoring sustainability.
Indeed, the impact of sustainable criteria on financial performance like climate change has been empirically proven.
However, there are still many investors who are unaware of the business opportunities and threats of sustainability, and who don't consider it as an important part of their investment criteria. However, this is changing. The impact of Environmental, Social and Governance is such that the US Labor Department issued new guidance last year, which acknowledges that environmental, social, and governance factors may have a direct relationship to the economic and financial value of an investment. When they do, these factors are more than just tiebreakers, but rather are proper components of the fiduciary's analysis of the economic and financial merits of competing investment choices. Further, the Sustainability Accounting Standard Board (SASB) is overcoming the limitations of the current financial and ESG disclosure system and has evidenced industry specific non-financial elements having material impact according to SEC's definition while developing its rigorous disclosure framework which involves industry working groups.
There are also tremendous business opportunities beyond ESG integration related to engaging with society, consumers, and communities as stressed by the Michael Porter's Shared Value Initiative and discussed in a recent paper published by McKinsey.
In addition, sustainability-related initiatives can generate revenue growth, increase productivity, and improve a company's risk management as evidenced in the UN Global Compact Value Driver Model co-developed by Cary Krosinsky.
In regards to environmental aspects, we are presented with great opportunities in a post cop21 energy market which is transitioning toward a lower carbon emission model supported by the historical COP21 agreement that will soon have repercussions in the international regulatory framework and while overcoming the major negative effects of pollution on health, first cause of death globally. We are also presented with opportunities to reduce significantly companies' operating costs while finding new business solutions following the circular economy model in a world facing increased resources scarcity.
To be successful, conscious companies are grounded in a sound business strategy, like any for-profit organization, but their business practices enhance their business model, creating additional value and allowing them to capture more of the market. Having a higher purpose and taking a stakeholder approach can drive tremendous sales growth, through the impact of employees' engagement on customers' satisfaction and loyalty. It is also well known that privileged relationships with suppliers imply positive impact on deal terms and pricing which can lead to a competitive advantage. Further, a stakeholder approach combined with a higher purpose, conscious leadership, and a conscious culture can increase brand value as long as it fact-based and not exaggerated. Yet, in a world where ​81% of S&P 500 companies' valuation is based on companies' intangible assets such as customer relationship, brand value, and intellectual capital, it is clear that being a conscious company drive significant and long-term shareholders value. It is not necessary to be Michael Porter to understand this. It is just common business sense.
Add to this the impact that values oriented Millennials will increasingly have on our economy and you have a potent mix for business disruption. According to the Pew Research Center Millennials now make up the majority (53.5%) of the American workforce. Millennials are the largest, most diverse, and most ideologically driven generation of American workers ever as reported in the Investment Company Institute. It is estimated that more than $30 trillion in assets will pass to the Millennials over the next generation1. Yet, this cohort of citizens, the biggest in US history is demanding more integration of their money and personal values.
These are few reasons explaining why understanding the opportunities and threats related to Conscious Capitalism are becoming key factors to consider both during the fundamental analysis of an investment and during the due diligence.