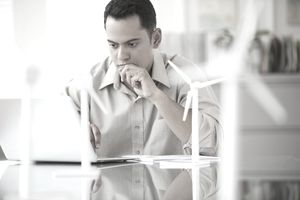 The general information, facts, and figures below are to help you determine if a career working in the U.S. as a computer systems analyst might suit you.
"Computer systems analyst" is a general job title. Common alternate titles include "computer systems developer" and "computer systems architect." Specific job titles vary by organization.
Job Duties
Computer systems analyst job duties also vary by organization.
But, generally, they customize computer systems to meet specific information-technology needs.
Broadly, computer systems analyst job duties include:
Planning, designing, installing, and developing new computer systems

Revamping existing computer systems for new tasks

Networking computer systems with others

Preparing cost-benefit and return-on-investment (ROI) reports for management

Testing and debugging new or revamped computer systems and the networks on which they communicate
A computer systems analyst typically performs his or her job duties by coordinating with other information-technology professionals, such as network-security specialists, programmers, and software engineers.
Job Qualifications
Many employers require computer systems analysts to be formally educated. The typical minimum is a bachelor''s degree. Some employers require an advanced degree for more complex jobs and senior positions.
Others require dual degrees for highly specialized jobs, such as designing computer systems for biotech applications.
Common degrees required include those in computer science, information science or management information systems.
However, systems analysts can hold a variety of tech-related degrees.
Consequently, some employers require only a relevant degree without saying which type.
Instead of a degree, some employers might accept equivalent experience, or less experience plus a computer certification. Other job qualifications vary greatly by employer, but generally include:
Knowledge of a specific computer system

Strong analytical and problem-solving skills

Good interpersonal and communication skills

Background in the employer's industry

Empathy for the financial bottom line
Typical experience required is two years or more. However, some employers accept advanced degrees in lieu of experience, while others offer entry-level jobs and internships that require none. Certain computer systems analyst jobs require a security clearance, such as those at government agencies or corporations that serve the government on contract.
One of the best ways to discover specific job qualifications for computer systems analysts, is to look at an "average" of what several employers require. To do so, perform a trial job search and study the job descriptions. Another good way is to schedule informational interviews.
Salary
In May 2004, U.S. computer systems analyst jobs paid $66,460 as the median annual salary.
Annual salary was distributed as follows.
Ten percent paid more than $99,180

Fifty percent paid between $52,400 and $82,980

Ten percent paid less than $41,730
According to Robert Half International, 2005 starting salaries for systems analysts ranged from $61,500 to $82,500. According to the National Association of Colleges and Employers (NACE), 2005 starting salaries were from $44,417 to $62,727, depending on the degrees that systems analysts earned.
Employment
Computer systems analysts held about 487,000 jobs in 2004, with the computer systems design and related services industry employing the largest concentration. It serves the information-technology needs of other industries, on contract.
Career advancement for computer systems analysts with leadership skills includes promotion to middle-management positions, such as project manager or manager of information systems, or even executive positions such as chief information officer (CIO).
Some systems analysts eventually strike out on their own, becoming self-employed independent contractors (consultants) or small-business owners. That's because computer systems analyst jobs are often contract gigs, which suits the self-employed. 28,000 systems analysts were self-employed in 2004. Many of the jobs are also suited for telecommuting, at least part time.
Job Outlook
Thanks to increasing information-technology needs in virtually all industries, computer systems analyst jobs are forecasted to grow faster than the average for all jobs through 2015. As in 2004, the computer system design and related services industry is likely to be the largest provider of computer systems analyst jobs.
Increasingly, companies are hiring computer professionals only temporarily as specialized consultants, which is why the computer systems design and related services industry is blossoming. In light of this, a computer systems analyst would be wise to specialize in a niche that relies heavily on information technology, such as government, business, finance, e-commerce, engineering, science, or healthcare.
As do most computer professionals, systems analysts must hone and update their skills to take full advantage of this favorable job outlook.