How to Reverse Engineer Your Competitors Social Media Effort
Social Media Competitive Analysis Template Included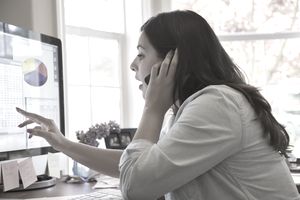 You've noticed that your competitors are increasing their social media activity. Their followers are increasing as well as comments and likes.  What are they doing that you're not? That's the big question, right?
Just like any area of marketing a competitive analysis can help you to cultivate ideas and develop a conversation that gets attention in the social sphere.
Social media being an open forum, makes the competitive analysis a little easier than other competitive analysis that requires a little more digging and investigation.
We can monitor what are competitors are doing, what they are saying, how they are engaging.
So, when it comes to our competitive analysis, what should we be looking for?
Your company or brand name mentions.
Competitor company or brand name mentions.
Your Facebook fan page activity.
Facebook fan page activity of your customers.
Your Twitter followers.
Twitter followers of your competitors.
Paid social advertising spend of your competitors compared to your own spend.
Obviously, there are many other social media channels, but we will focus on Facebook and Twitter since they are the most popular and if you have an interest in conduct an analysis of other social media networks you will have the information that you need to do so.
Step 1:  Social Media Monitoring
In conducting your analysis it will be important to be alerted when your company or brand name or mentioned.  The same is true of your competitors.
 This step will help in identifying and assessing what is being said about the companies, brands, products, and service.    Social media conversations provide us with a great deal of data, both about the companies we represent as well as our competitors.  Listening to social media channels can provide us with a great deal of customer intelligence, so put on your listening ears.
You want to listen for the brand of your competitor, product names, and even top executive names.  There are many tools available, both free and paid service.  Obviously, for the most in-depth listening, many of the paid tools provide very comprehensive data.  The following tools that I have selected are available and are either free or very low cost.  They are great to start with and will give you the basics of what you need to conduct your analysis.
Google Alerts - I love Google Alerts.  They are easy to setup and they send the results right to your inbox.   They won't capture everything, but it's a good way to get basic information via a query that you select.
Social Mention – Social Mention aggregates data across multiple platforms.  You can gather data from Facebook, Twitter, YouTube and more.  It also provides you will analytics to determine if the sentiment is of positive or negative nature. 
Hootsuite – Hootsuite is not only a tool to help you manage all of your social media accounts, but you can add a search column that will scan Twitter in real time.   I love the real-time aspect because you can have this running in the background and check it several times a day to see what's being said about you and your competitors.  A super easy tool to use.
Tweetdeck – Tweetdeck is very similar to Hootsuite and really does that same thing.  Hootsuite is a little more power especially if you opt for the paid version, but both work very well, it's more a matter of personal choice.
IceRocket – Developed by Meltwater, IceRocket focuses is a search engine that will search blogs, Twitter and Facebook.  It's a search engine so you'll have to visit their site to get the data that you want, unfortunately, it won't be automatically delivered to you.
Unfortunately, none of them provide you with the all-inclusive, but if you run a search every day, it will only take a few moments to review anything new that pops up.  Create a daily checklist to visit the tools above that you will use. While not the most comprehensive tools they will give you the basic information that you need to start gathering your analysis data and it's a great starting point.
Step 2: Evaluate Facebook Fan Page Activity
Facebook is one of the primary social media networks, so to conduct your analysis it will be important to gain an understanding of your Facebook fan page compared to those of your competitors. What should you look for?
How many followers do they have?
How many fans interact with their posts?
What are they posting?  What posts gain the most attention?

A few tools that can help with this include:
Simply Measured - Get a free benchmark report for the last two weeks. Compare and analyze up to 10 Facebook fan pages.  
Agora Pulse – Agora Pulse also provides a free benchmark report called the Agora Pulse Barometer. The report shows fans reached, engagement, and page insights and ranks you against other pages that have used the tool.
Fan Page Karma – Fan Page Karma offers a free version of an analysis that will let you compare your Facebook page with those of your competitors. You'll get information like KPIs that will give you an initial assessment of your page based on certain metrics.  A really cool tool and at under $50 per month, you might even consider the paid version if Facebook is an important channel for you.
Step 3: Evaluate Twitter Followers
Twitter can provide us a great deal of customer intelligence when it comes to our competitors.  Monitoring what is being said on Twitter can provide us a lot of insight.
What should you look for?
Who's interacting with you and your competitors?
What's being said?         
Who's following you and your competitors?
Where are your followers located?

FollowerWonk by Moz is a great application that can help you get that granular detail.  While their app is a paid app they will provide you with all the data above.  The great news is they do offer a free trial for 30 days.
Step 4:  Conduct a Social Advertising Spend Analysis
This step can be a little more difficult, but important to your overall analysis.  After all, if you see they have a significant amount of followers and likes, you have to evaluate if they have "boosted" or paid for more exposure in order to get an accurate assessment.
With that being said, let me share with you a tool I've found very helpful. It's called Social Ad Ninja.  It's pricey at $150 per month, but worth it if you can swing the investment. I tried to find an alternative that was lower in cost but was unsuccessful.  If you know of one, connect with me and let me know.

This tool will give you the skinny on what your competitors are paying on for advertising on Facebook and not only that but it will tell you who it is they are targeting. This, in my opinion, helps you level out the playing field and helps you make the determination of whether you should consider a social media ad spend.
Step 5: Pulling It All Together
Now, you have the data but what should you do next?
Why not take the data and evaluate the strengths and weaknesses of you and your competitors. Chart it out. Construct the data in a way that makes sense to you, helps determine what you should be focusing on in your social media channels, and inspires you to create an action plan that's proactive and easy to follow. If you need some help in pulling together your competitive analysis, you may find the Social Media Competitive Analysis template helpful. Once you have that you are ready to begin on your strategy, you'll find some guidance in my Five Steps to a Winning Social Media Strategy.