10 Companies Offering Business Interruption Insurance
Business Interruption Insurance FAQs and Providers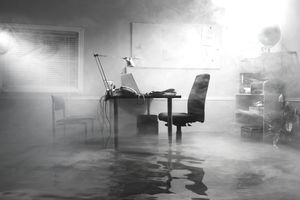 If you are a prudent business owner, you likely have your financial assets protected through business insurance. As protected as you may think you are, are you truly prepared for an unexpected emergency or natural disaster? You will have to be prepared to pay employee salaries, taxes, loan payments, repairs and other operating expenses. Without the added protection of business income insurance, your business operations may be vulnerable and a natural disaster could financially devastate you.
This is where business interruption insurance can come into play, protecting your business interests when these unexpected events occur.
Business Interruption Insurance Benefits
What exactly is business interruption insurance? Business interruption insurance is most often found as a coverage included in a business owners policy (BOP), a commercial package Policy (CPP) or a commercial property insurance policy and is designed to pay for business expenses when your business operations have to be temporarily suspended due to property damage caused by an unexpected event. It can help you keep your business operating by allowing you to pay for operating expenses until you are up and running again. Business interruption insurance pays for things such as:
Lost revenue
Rent and utilities
Moving to a temporary location
Additional expenses (advertising, incidental costs related to repairs, advertising, relocation, etc.)
Operating expenses (salaries, rent, health insurance, etc.)
Exclusions
Business interruption insurance can help protect you financially from life's unexpected events. However, you should be aware that there are exclusions (things that are not covered) by your insurance policy including:
Earthquakes
Fire
Theft
Vandalism
Glass Breakage
Utility Interruption
Optional Endorsements
If a significant wind event such as a hurricane or some other event such as a gas line break occurs, utility services may be unavailable for your area. This is typically not covered under property insurance or business interruption insurance. However, it may be available as a utility service endorsement which can be added to your policy.
Property insurance will not pay for all losses such as "unnamed weather events." These events may even be excluded from business interruption insurance. If a storm is not given a name by the National Weather Service, most property insurance policies will not cover the damage. Even though there are exclusions to business interruption insurance, in some cases you can add the coverage to your business owners policy by endorsement (policy rider) or purchase a separate policy such as earthquake, flood or hurricane insurance.
The civil authority endorsement pays for expenses resulting from your business closing due to an act of civil authority such as an evacuation order during a hurricane.
Some insurance companies allow you to add an extended coverage endorsement to your BOP policy to extend business interruption insurance if your business will be closed beyond the initial 12 month period of coverage.
10 Insurance Companies Offering Business Interruption Insurance
If you own a business with operating assets you cannot afford to lose, business interruption insurance is worth considering. If you are looking for a quote, you can begin your search with these 10 insurance companies offering business interruption insurance:
AllState: Allstate offers a comprehensive line of business insurance products for professional firms, health and medical offices, service industries, retail and food and beverage establishments. You can customize a business policy to meet your specific business insurance needs. This includes business interruption or business income and extra expense insurance.
Nationwide: Nationwide's business interruption insurance is offered as part of a BOP policy and provides coverage to replace lost income, pay for business continuation and relocation expenses. Optional endorsements to expand coverage include extra expense coverage, dependent property, utility services and civil authority.
Final Thoughts and Considerations
Sometimes the unexpected can happen to your business operations whether it is a storm or some other event that causes you to close down your business temporarily. There are many considerations to be made if this happens such as how long it will take to restore your business and how much this will cost.
Business income insurance has its limitations. When considering making a decision about purchasing business income insurance, keep in mind that most endorsements added to a BOP policy for business interruption only cover your business for a 12-month period. If you need coverage for longer than 12 months, you may have to add an endorsement to your BOP to extend the coverage beyond the initial 12-month period.
Additionally, if an event occurs within the first few days after you buy your policy, you may not be covered. It's a good idea to have some sort of savings to provide for the initial time period before your insurance coverage becomes effective. Make sure to purchase enough insurance to not only cover your business' current income but also your projected income.
Property insurance alone may not be enough to help you get back to business as usual. If you think you might need the extra protection of business interruption insurance, schedule a consultation with an insurance professional or shop for and compare business insurance online. Not all business insurance policies include business interruption coverage so make sure what coverage options are included before purchasing a policy.