List of Big Food Companies Eliminating Artificial Colors and Flavors
Consumers Want Good, Clean Food and Big Food is Taking Notice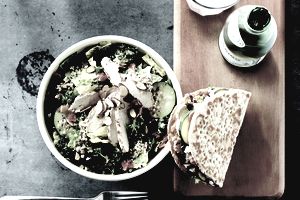 Which companies are committing to preservative-free, artificial ingredients free food? 
Seems like everybody, from fast food chains to cereal and candy and beverage makers. 
Why Eliminate Artificial Colors and Flavors?
To make eaters happy, especially moms shopping for kids. 
The trend in real food with minimal ingredients we can pronounce is backed up by tangible numbers from market-research firm Nielsen: "More than 60% of Americans say that the absence of artificial colors or flavors is important in their food-buying decisions."
The time is ripe as natural colors and flavors, many derived from fruit, veggies and spices, abound.
Big Food Joins the Good Food Movement
Here's a running list of big food companies responding to consumer tastes for simple, real foods:
General Mills Will Eliminate Artificial Colors From Cereals
What comes to mind when you think "Lucky Charms!" A rainbow of cereal no doubt. To keep with consumer desires and concerns that artificial colors lead to ADHD, in June 2015 General Mills committed to replacing artificial colors with natural colors in 40 percent of its cereals.
"We are aiming for 75 percent by January – including Reese's Puffs and Trix – and 90 percent by the end of 2016, giving our product developers time to make sure they look and taste great," the announcement says. Bits like marshmallows may take longer, due to reformulation time. 
What led General Mills to make the changes? John Foraker, President of Annie's, which General Mills recently acquired, shares some background on the big ingredients changes.
Good idea: General Mills had been already experimenting with natural colors before making the  announcement. Smart to prove a big change before announcing it will be rolled out.
Panera Bread Bakes a No-No List
Panera Bread published a list of artificial colors, flavors, sweeteners and preservatives that the Company has eliminated or intends to remove from its U.S. Panera Bread® and St.
Louis Bread Co.® bakery-cafe food menus by the end of 2016, from bakery to soups to salads and sandwiches.
More than 150 ingredients will be impacted, including high fructose corn syrup (HFCS) and artificial trans fats. Although as NPR points out, drinks made with HFCS are not on the chopping block...yet anyway. The No No list of banned ingredients reflects a common sense methodology. The Panera team asked; "What is this? And why is it used?" 
Pizza Hut and Taco Bell Race to Eliminate Artificial Colors and Flavors
Pizza Hut says it will remove artificial flavors and colors by the end of July 2015. It said it will start listing all it ingredients online once the changes are completed.
Taco Bell says it will eliminate artificial colors, artificial flavors, high-fructose corn syrup (HFCS) and unsustainable palm oil from its food by the end of 2015. Artificial preservatives will be eliminated "where possible" by 2017. The moves do not affect fountain drinks or co-branded products, such as its Doritos-flavored taco shells.
Both companies are owned by Yum Brands.
Pepsi to Drop Aspartame 
In response to consumer requests, Pepsi has committed to stop using aspartame and start using "a blend of sucralose and acesulfame potassium" in several of the company's sugar-free diet drinks.
(The Washington Post believes this was not a good decision.)
Both Pepsi and Coca-Cola have been hurting in terms of sales, with a growing selection of natural and DIY soda alternatives available to consumers. 
Other companies are turning to natural sweeteners like stevia to replace artificial sweeteners.
McDonalds to Use Antibiotic-free Chicken 
In March 2015, McDonald's Corp. announced that it will curb the use of chickens raised with "human" antibiotics, which can be dangerous to humans. This change is made possible in large part due to Perdue and Tyson reducing the use of antibiotics in chickens. Read Eater's extensive analysis of this change and announcement. 
Where's the beef? The company says it is working on a similar policy for beef. But cattle ranching is less centralized than the poultry supply.
And, according to Fast Company, "Perdue Farms, the third-largest U.S. chicken producer, says it's 
Nestlé to Remove Artificial Ingredients and Colors
Nestlé made a really big commitment in February: "By the end of 2015, more than 250 products and 10 brands including NESTLé BUTTERFINGER®, CRUNCH® and BABY RUTH® will be free of artificial flavors and certified colors."
Sour candies and gummies may not glow quite as bright as before, but given the evidence that some artificial colors can cause hyperactivity, the switch to natural colors and natural flavors should translate to good sales for Nestle. 
On the bright side, a phenomenal number of natural colors and flavors are available today. For example, Nestlé will swap artificial colors in BUTTERFINGER's so-called crispy, crunchy center with annatto, which comes from the seeds found in the fruit from the achiote tree. In CRUNCH®, the natural vanilla flavor will replace artificial vanillin. 
In mid-2015, these foods will have a "No Artificial Flavors or Colors" claim on the packaging.
Hershey is Switching To Non-GMO Cane Sugar
Hershey will transition its chocolate to use cane sugar, which is all non-GMO, rather than genetically modified beet sugar. 
And the list goes on and on, including Kraft Macaroni and Cheese removing artificial preservatives and colorings. Will the revamped mac and cheese give Annie's Homegrown a run for its Shells & White Cheddar? As with the other brands, it will be interesting to see if consumers stick to their long-time natural favorites or try out the old brands.
J.M. Smucker To Focus on Simpler Ingredients in New Products
In 2016, Smucker's plans to introduce dozens of new products, many with simpler, clean ingredient profiles in response to consumer demand. The company acquired Sahale Snacks in 2015, and the company continues to roll out new products featuring nuts under the Sahale brand.
So What's an Aspiring Food Entrepreneur to Do?
First, you might want to avoid going into the business of selling artificial colors and flavors. When developing products, follow these easy tips:
Design recipes without the artificial stuff. Check out the Panera No No list. It's a useful perfect playbook for do's and donuts, much like the Whole Foods Unacceptable Ingredients list. 
Discover real fruit and vegetable powder, piece and puree makers for natural food colors and flavors.
Learn more about food product development through the Institute of Food Technologists. 
Think about your sourcing, too. And where do your sources are sourcing from? Check out the Good Food Awards to see who's winning and the values behind the awards. My book Good Food, Great Business is all about this topic as well!
Keep an eye on this article for ongoing updates as more Big Food companies commit to "good food."