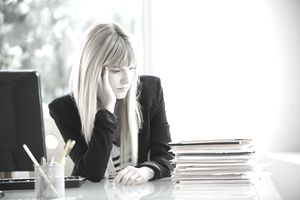 If you're a soon-to-be or recent college graduate, you've probably wondered how much your degree is worth. Most college students place a high priority on salary as they anticipate employment after graduation.
According to a LendEDU survey of over 3000 students, more than 70 percent of respondents indicated that salary was the most important consideration for post-graduate employment. However, the realities of compensation for graduates often do not live up to their expectations.
The survey reports 38 percent of respondents expected starting salaries of over $60,000 a year, with 17 percent of those expecting to earn over $80,000. Thirty-six percent of students expected to make between $40,000 and $60,000 while the remaining 26 percent expected to earn under $40,000 in their first job.
Average Salary for College Graduates
Are those salaries a realistic expectation? A Korn Ferry study reports that the average salary for college graduates is at an all-time high. However, that high might not be what you expected when you started looking for your first job after college. If you were one of the students who responded with the highest expectations, it's going to be a stretch to reach your salary goal.
Korn Ferry's Hay Group division researchers analyzed salary data for 145,000 entry level positions from over 700 organizations. The data for 25 different jobs indicated that 2017 college grads would earn an average salary of $49,785.
When compared with the expectations in the data from LendEDU, it appears that about half of graduates would receive salaries less than what they had anticipated.
Salaries Based on Jobs
Based on the jobs analyzed by Korn Ferry, the top salaries on the list pay in the mid-60s:
Software Developer: $65,232
 The lowest salaries are in the mid-30s:
Customer Service Representative: $35,848
Category Assistant: $35,592
Salary Based on Location
The Korn Ferry research highlighted geographic differences in pay in major cities with average salaries ranging from $49,038 in Atlanta and $50,084 in Dallas on the low end, to $60,190 in New York and $62,829 in San Francisco on the high end.
Graduates relocating to lower wage cities are more likely to be disappointed by salaries, while those moving to some metropolitan areas may be pleasantly surprised by their earning potential.
The Majors That Pay the Most
As you might expect, college major is the biggest differential when it comes to salaries for your first job after college.
The  National Association of Colleges and Employers (NACE) surveyed 243 employers on the starting salaries that they expect to offer graduates in various majors. Employers planned to pay the highest salaries to STEM (science, technology, engineering, and math) graduates:
Engineering: $66,097

Computer Science: $65,540

Math and Science: $59,368
Employers reported the lowest expected salaries for the following majors:
Social Science: $53,459

Communications: $51,925

Humanities: $48,733  
PayScale's 2016/2017 Salary Report notes that "Choosing a major makes an even bigger impact on future earnings than deciding which school to attend." PayScale reports the majors with the highest earnings potential include:
 ThinkAdvisor reports that the lowest paying majors include:
Early Childhood Education
Child and Family Studies
Child Development
Pastoral Ministry
Youth Ministry
If you're in a high-demand career field, it will be easiest to earn what you're hoping for in your first salary. If not, there will be opportunities to increase your earning potential over time. Having a college degree automatically ups your chances of earning more. The average salary for someone with a four year degree is more than double that of someone who didn't graduate from high school.
Class of 2017 Hiring Projections
Employers expect to hire 5 percent more new college graduates than they did last year, according to a report from NACE. NACE also reports that employers are expected to hire more interns this year, which will provide opportunities for graduates seeking post-grad internships as well as for college students.
Perception vs. Reality
In addition to hiring being up, salaries in all categories for the class of 2017 are expected to be higher than the pay garnered by the class of 2016, which will help to narrow the gap between expectations and reality. The Korn Ferry study estimates a 3 percent increase over the class of 2016, and a 14 percent increase over the starting salaries of the class of 2007.
Salary projections are up, but student expectations are also high. Even the graduates with the highest potential salaries may experience disappointment since 38 percent of the students surveyed by LendEDU expected to earn over $60,000, probably more than is realistic in all but the highest cost of living areas. Graduates in career fields with lower expected salaries may find that compensation does not measure up to the levels that they had anticipated.
However, some students who expected to earn less than or close to $40,000 may be pleasantly surprised when salaries exceed their expectations. Graduates with majors not perceived to be in high demand are most likely to experience the greatest surprise when they receive job offers on the higher side.
Get Salary Information
It's important to know what you're worth, whether you are searching for your first job or you have years of experience. The more information you have, the easier it will be to negotiate salary. There are free online salary calculators you can use to get estimates, and PayScale offers a free personalized salary report. You can also use a paycheck calculator to estimate your take-home pay.
Consider Your Compensation Package
What can you do if you're one of those graduates whose expectations aren't in line with what the job market actually pays? If you've got significant work or internship experience, the skill set employers are seeking in college grads, and the position is in a higher paying market, you may be able to boost your salary a bit.
The more you do in college to prepare for the workplace, the higher your paycheck will be. Be sure to include everything applicable on your resume, so the hiring manager can see how well-qualified you are.
In addition, remember that money isn't everything, even though it was the most important thing for 72 percent of the LearnEDU survey respondents. A compensation package is worth more than you see in your paycheck when you add in employer-provided benefits and perks, which can be substantial.
It's also important to consider employment values other than compensation. Consider factors like the potential for advancement, your satisfaction with the day-to-day content of the job activities, benefits and perks, and work/life balance, in order to make a good decision when evaluating offers for your first job after college.
More Tips for College Grads: How to Decide if a Company is a Good Match for Your First Job | 8 Ways to Make the Most of Your Liberal Arts Degree
Data sources include LendEDU, Korn Ferry, NACE, ThinkAdvisor, and PayScale.