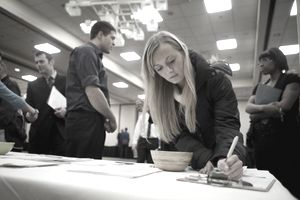 If you are a college student or alumnus (in many cases, regardless of when you graduated) your college or university career services office can help you with job searching and planning a career or a career change.
Career Office Resources
Most career offices provide individual career counseling (including graduate school and choice of major advising and job search coaching), drop in sessions for quick meetings with a counselor, seminars, workshops, a career resource center and computer lab, on-campus and off-campus recruiting and networking programs, job and internship listings, resume, cover letter and personal statement critiques.
Distance Advising for Grads
For college graduates who aren't close enough for in-person visits to the career office, distance advising may be available via phone, email, Skype and/or instant message.
Career Networking Programs
Career networking programs are typically held off-campus as well as on-campus. Your Alumni Affairs and Career Services office will have information on upcoming events and programs where you can network with alumni who are more than willing to help with your career building and job search endeavors. Also, check to see if there is an online alumni Career Network you can access for assistance.
List of College Career Services Offered
Personal career advising
Career and company research resources
Job shadowing programs
Campus and off-campus recruiting programs
Job, internship and summer job listings
Job fairs
Job search assistance
Access to recruiting programs
Resume and cover letter writing assistance
Graduate school advising
Career / social networking - alumni networking resources, LinkedIn, Google+ and Facebook groups and pages
Career networking advice, assistance, and programs
Workshops and seminars
Related Articles: College Student Job Search Tips | College Career Networking