How to Collect Big Cash From Checkout 51
Shop wherever you'd like and collect a rebate by uploading your receipt.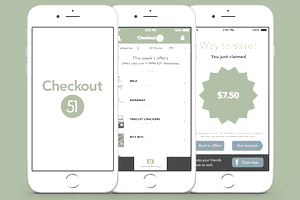 Rebates can be a hassle to process once you circle the item on your receipt, fill out the form, print out the paperwork, and cut the UPC symbol from your item. But as rebates get easier to collect, more shoppers are willing to go the extra (half) mile to cash in, and that's why the app Checkout 51 has so much value.
You may recall that we've shared information about Checkout 51 before, but at that time, the app was only available in Canada.
However, it has since expanded to the U.S., allowing you to combine sales, coupons and these in-app rebates to maximize your value when you're buying groceries and other items. The following four tips can help you save big when using this clever app, which is free for iPhone and Android phones.
Coordinate With Your Shopping List Every Thursday
Each week when you create your grocery shopping list, you'll want to check in with Checkout 51 to determine whether any of the items you're already buying are eligible for money back with the app. Checkout 51 updates its list of offers every Thursday, so if you create your grocery list on Wednesday night, re-check the app on Thursday morning to make sure the offers are still valid on the items you were planning to buy.
Combine Offers to Get Deals or Freebies
If you're a savvy shopper, you're most likely combining sale prices with coupons (both mobile and paper) to get your groceries at a deep discount.
You can continue to reap the benefits with Checkout 51 by matching the offers in the app to your coupons and discounts. For instance,  the app once offered a discount of 35 cents if you bought Frank's RedHot sauce. At the time, that item was on sale for $1.79 at a local store. I also had a special 50-cent coupon that I could double to a dollar.
That meant I would pay 79 cents for the sauce in the store, but after my 35 cent rebate, the bottle would cost only 44 cents. You'll find many offers like that on the app, so if the timing works, your discount becomes even more valuable. 
Set Notifications in the App 
When you first create an account with Checkout 51, the app will ask if you want to enable notifications. If you do, the app will give you a nudge when new offers or deals are added to it. I'd recommend that you keep this feature turned on since it will let you stay up to date on the most valuable offers available at any given time.
Keep Uploading Receipts
When you buy a participating product, you'll snap a photo of your receipt and upload it to the app. Make sure you do this for every participating item you buy, no matter where you purchase it because your savings can add up quickly. Once your balance hits $20, the Checkout 51 folks will send you a check for that amount, which you can use toward anything you'd like.