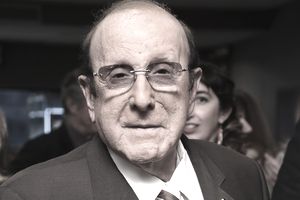 Clive Davis - The Basics:
Legal Eagle:
Clive Davis never set out to become a record label mogul. He attended Harvard Law on a scholarship, and in the early 1960s, he started his own law firm.
His firm was eventually absorbed into a larger firm which represented CBS Records. As Davis worked closely with CBS Records, specifically with the then CBS subsidiary Columbia Records, he discovered a new interest in music. CBS Records president Goddard Lieberson worked closely with Davis and eventually lured him out of the legal business and into the music industry. By 1967, Davis had been named president of Columbia Records.
Monterey Pop :
Davis may not have entered the music industry as a particularly huge fan, but as he worked more closely with bands, his appreciation grew. A defining moment for him was when he attended the 1967 Monterey Pop Festival to see one of his early signing, Donovan, perform. He thought the sound he heard there was a new direction for music and signed some artists on the spot, including:
The folk-tinged pop, and more importantly, the blues-inspired rock sounds Davis heard at the festival would influence his signing for some time to come.​
Columbia Goes Rock:
Before Davis' trip to Monterey Pop, Columbia Records had avoided signing folk and rock artist. Under Davis in the early 1970s, the label branched out into these genres and doubled its sales almost overnight. Some of Davis' most significant signings came during this period, including:
Tax Evasion:
Just as his career was taking off, Davis encountered a series of legal troubles. In 1972, the US government was cracking down on sloppy bookkeeping and questionable practices in the record industry, and CBS Records discovered some irregularities in the accounts at Columbia under Davis. Davis was fired amid allegations that he had been using company money for his personal expenses. The US government charged him with tax evasion - he was convicted in 1976 and had to pay $10,000 in fines.
Back to Columbia:
Despite all of the hoopla, in actuality, Davis' firing from Columbia was more for show to turn down the heat from the government than anything else. Davis was back at Columbia by 1974, this time in the motion pictures division as head of music operations. Under his leadership, the the three Columbia Pictures imprints were merged into one new label - Arista. Davis purchased a portion of Arista records, and eventually, the controlling percentage of the label was sold to BMG.
Arista Megastars:
Davis turned Arista into a one of the most successful imprints in history, thanks to the multitude of genres represented on the label and Davis' ability to spot a hit.
It was during this time that Davis discovered Whitney Houston and formed a musical partnership that lasts until this day. Other major artists on Arista over the years have included:
J Records - Break Ups and Make Ups:
By 2000, BMG began to doubt their hit maker and tried to force Davis out of the fold, allegedly claiming he was too old to spot a hit. Davis countered by starting a new label, J Records, and taking some of his old signings with him. BMG immediately offered distribution to J Records, which soon became a success in its own right. In 2003, BMG invited Davis back into the business by naming him president of RCA Records. In 2004, Davis was again promoted, this time to Chairman of BMG North America, where he oversees all of the imprints he has nurtured over the years.
American Idol Label of Choice:
One latter claim to fame for Davis has been his connection to many American Idol contestants. Davis has given deals to winners and loser of the competition alike, including: