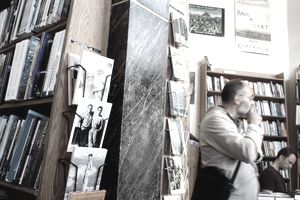 City Lights Bookstore:
261 Columbus Avenue at Broadway
San Francisco, CA 94133
(415) 362-8193
www.citylights.com
City Lights Bookstore Overview:
City Lights Bookstore is an independent bookstore located in the North Beach section of San Francisco. It retains a "legacy of anti-authoritarian politics and insurgent thinking" from its early association with Beat poets.

City Lights features general trade books, harder-to-find titles from small specialty publishers and an extensive selection of poetry, fiction, translations, politics, history, philosophy, music, and spirituality.
The store prides itself on having a knowledgeable staff to buy and curate its offerings and assist its customers.

In addition to selling books, City Lights operates a small press.
City Lights turns 60 in 2015 and is celebrating with special events, anniversary publications, and blog posts that celebrate the storied bookselling and publishing history.  
City Lights Bookstore's Cool History, Daddio:
City Lights Bookstore was founded as an "all paperback bookstore" in 1953 by Peter D. Martin and the poet Lawrence Ferlinghetti. It was named for Martin's literary magazine City Lights. In 1955, Ferlinghetti became the bookstore's sole owner and established a publishing program through which he published Beat poets in the Pocket Poet Series.

According to store history, in the late 1950s, San Francisco tour buses would drive by City Lights in order to show their passengers real "beatniks."
Branding the Bookstore: What Differentiates City Lights Bookstore?:
"City Lights has become world-famous, but it has retained an intimate, casual, anarchic charm," as the bookstore's website puts it.

City Lights Bookstore's rich literary history makes it a landmark independent bookstore, and that history — the close connection and identification with the Beat poets — has left "a legacy of anti-authoritarian politics and insurgent thinking" and a "commitment to free intellectual inquiry." That legacy influences the assortment of books: in addition to traditionally published and distributed works, City Lights Bookstore selectively accepts self-published zines, chapbooks, pamphlets, and broadsides on a consignment basis.
They do not, however, accept books published through self publishing services (such as iUniverse, etc.).

City Lights is also unique in that it operates a small press which, like the store, was a natural outgrowth of Lawrence Ferlinghetti's very specific interests. City Lights notably published Allen Ginsberg's after it was rejected by a number of more established publishers.
City Lights Author Readings and Other Events 
City Lights hosts a weekly reading series at the bookstore that features new authors from across the publishing world. Authors from City Lights' own publishing list are constantly on tour across the nation.
In addition, the store hosts its own podcast series, entitled , "Live From City Lights." The podcast broadcasting literary events (such as the annual Litquake), interviews with authors and other publishing luminaries, and reviews from City Lights Books & Publishers.