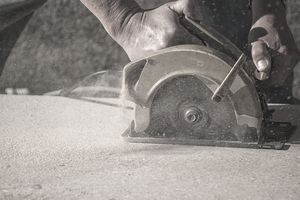 Circular Saws
If you are looking to buy a good circular saw, read below on some of the best saws available. These circular saws can fit into any budget and fulfill any construction professional expectation:
Circular Saw: Milwaukee 6394-21
The Milwaukee 6394-21 circular saw is one of the best and top of the line of circular saws. The Milwaukee 6394-21 presents:
Reliable blade guard and brake
Quick bevel adjustments
Sturdy construction, five-year warranty
Has an 8-position locking handle adjusts to the cutting application for maximum comfort and control
Light weight reduces operator fatigue, maximizes performance and control
Cushion Front Grip/Rear Handle maximizes comfort and control
One-Touch Spindle Lock - Convenient button on top of saw for easy access
Exclusive Tilt-Lok main handle grip
Although we found that the Milwaukee 6394-21 circular saw could:
Blows sawdust toward left-handed user
Base occasionally slips
Rip fence extra
The Milwaukee 6394-21 could be named as one of the best 7.25 circular saw in the market. It provides accurate cuts and leaves a smooth finished surface. This circular saw has an electric brake, and onboard blade-wrench storage and a Quik-Lok cord attachment. The 3.0 HP 15 amp circular saws, can bevel up to 50 degrees, very useful for many construction projects.
Circular Saw: Ryobi P500
The Ryobi P 500 circular saw is one of the best bargains that you can have.
Although not the most powerful circular saw available, its reliable power can provide excellent benefits if your budget is somewhat limited. The smaller blade, a 6 ½" blade, allows for less friction, ultimately increasing battery life.
The Ryobi P 500 can be used with lithium-ion batteries and comes with a two-year warranty.
Its built-in laser guide will help you to make precise cuts. This cordless circular saw drains its batteries and the charging period could be its worst drawback. It must also be used with great precision because it has no blade break and it is intended mainly for rough cuts or used on light jobs. It's one of many Ryobi tools that use the same 18-volt NiCad batteries, though you can upgrade it with a Ryobi lithium-ion battery kit.
Circular Saw: DeWalt DW378GK
The DeWalt DW 378 GK circular saw is one of the toughest saws available on the market. It is a durable saw, offering a three-year warranty period presenting less risk of kickback. Its lightweight, only 13 pounds, along with a 7.25 inch blade provides an excellent result when sawing sheet stock. This circular saw bevels from 0 to 50 degrees, but does not provides and an auto-stop feature that halts the bevel at 45 degrees. The DeWalt's raised handle sets the cutting table at the perfect angle to the saw and the user.
Note: The U.S. Consumer Product Safety Commission, in cooperation with the DeWalt announced a voluntary recall of the following consumer product: DeWalt DW378G and DW378GT 7 inch framing saws with date codes 200301-49 through 200637-49.
The model numbers for the framing saws are located on the side of the housing. The date code is located either on the name plate or under the handle near the power cord exit. Circular saws involved in this recall have model number DC300 with date codes 200601-49 through 200637-49.
Circular Saw: Bosch CS5
The Bosch CS 5 circular saw is an excellent tool that offers the capacity to make cuts without having to advance the guard. The 7.25 in circular saw pack a power of 15 Amps, 6200 RPM and offers a bevel capacity up to 56 degrees. It contains a left-blade design that enhances the line of sight while providing excellent power and great durability. The Bosch CS5 cut has narrow kerf and good surface finish; however, it might leave burrs on the cut edge.
It also offers an improved spindle lock allowing a quick and easy blade change; in addition, it claims to be the fastest cutting saw in its class at 15 amps.
The blade guard works smoothly without binding. All the adjustments are done with levers, not wing nuts. Cutting depth and cutting angles are a snap to set up. There is also a little blade change wrench attached to the shoe. Be careful, the Bosch CS5 circular saw does not provide a safety switch.