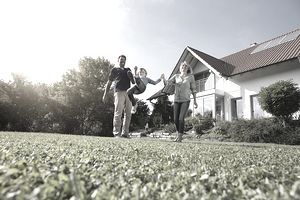 Financial strength and stability are important when searching for the right insurance company for your homeowner's insurance needs. Chubb Corporation is financially stable and also ranks well in the areas of claims and customer service. The company has been selling its property and casualty insurance products for over 130 years to customers around the world.
Chubb Corporation is the 12th largest property and casualty insurance company in the U.S. with a presence in over 26 countries.
The company's history dates back to 1882 when Thomas Caldecot Chubb started a marine underwriting business insuring ships and cargoes in the seaport district of New York City.
There are 8,500 independent agents who sell the Chubb Corporation insurance products. Personal insurance products include homeowner's, auto, watercraft, valuable articles, excess liability and collector car insurance. Its assets total over $50 billion and the company has over 10,000 employees. In 2010, Chubb was named in the top five best places to work by the Chicago Business list by ChicagoBusiness.com. It is a Fortune 500 company.
Financial Strength and Customer Satisfaction
Chubb Corporation has earned the top rating from A.M. Best for more than 75 years. It is also very highly rated by Standard & Poor's and Moody's insurance rating organizations. Business Insurance has named the Chubb Corporation as the readers' choice winner for the "Best Admitted Property/Casualty Insurance Company." Some of the other notable awards include:
Top 100 America's most Trustworthy Companies – Forbes
America's Most Admired Companies – Fortune
Top 10 Property & Casualty Insurance Company for East of Placing Business – PropertyCasualty360
America's 500 Best Companies for Investors – Barron's
Chub Corporation is not accredited by the BBB, although it does have an "A+" rating with the Better Business Bureau.
While companies are under no obligation to seek BBB accreditation, it does give customers a way to judge how the companies handles and resolves customer complaints.
Homeowner's Policy
Chubb Corporation offers some great pluses with its homeowner's policy. One of the added perks is extended replacement cost. What this means is the company will pay to rebuild your home after a covered loss even if the cost is greater than your policy limit. Very few companies offer this. Some of the other extras include:
Free home appraisal to determine replacement cost
Property restoration referrals for claims
Identity fraud prevention
Wildfire defense services (available in 14 states)
Here are some of the basic features of the Chubb Corporation homeowner's policy:
Extended Replacement Cost: This allows you to have repairs to restore to original condition even when the price exceeds your policy limits. It also allows you to make necessary upgrades for modern building codes.
 
Cash Settlement: For a total loss, you can get a cash settlement if you decide not to rebuild.
 
Home Appraisal Service: This is a free home appraisal to help determine replacement value for your home.
 
Additional Living Expenses: If you have to live outside of your home because of a covered loss, the company covers the cost for a temporary residence. This is limited to a certain percentage of your home's insured value. A Chubb agent can give you specific details about the coverage for additional living expenses.
 
Replacement Cost Coverage: This coverage is for items inside your home. The policy pays replacement value without a deduction for depreciation. You can also choose a cash settlement is you do not wish to replace your personal belongings.
Discounts
Multiple Policy Discount
Credit for Valuable Articles Insurance
Burglar Alarm
Fire Alarm
Sprinkler System
New House
Renovated House
Gated Community Patrol Service
Loss-free Discount
Masonry Construction
Suburban Rating
Pros and Cons
Pros
24/7 Claims Service
Financial Stability
Online payments and policy services
Cons
No online insurance quotes
Chubb is known for marketing to wealthy homeowners, meaning owners of expensive homes may get the best rates
Company Contact Information
To learn more about Chub Corporation's homeowner's insurance policy or its other insurance products, you can visit the Chubb Corporation website, use the agent locator or call 1.866.324.8222.