Last Minute Christmas Gifts: The Financial Wellness Version
Gift Ideas to Help Others Achieve Financial Independence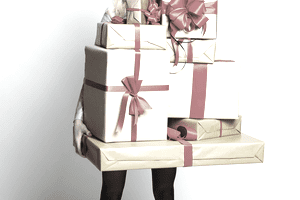 When December rolls on there are only a few days left to finish shopping for those last minute Christmas gifts. That being said, I fully acknowledge that I'm a chronic procrastinator when it comes to gift shopping. I also have a strong aversion to sitting in mall traffic and shopping in crowded stores. Thank goodness for online shopping and gift certificates by email!
Don't get me wrong, though, I absolutely love giving gifts.
In fact, one of the awesome side effects of achieving a strong sense of financial wellness is that it puts you in a position to give more to others or to the groups and organizations you are passionate about.
There is nothing worse than giving for the wrong reasons (e.g. because you feel like you have to) or giving bad gifts like socks, underwear, or a scale. Fortunately, there are some last minute gift ideas that can make a positive difference if positioned appropriately. Of course, for full disclosure, I am a Certified Financial Planner™ professional so these ideas have an overall theme of financial wellness.
Here are a few last minute gifts to consider for friends and family:
Share a personal finance book that empowers others to increase their financial wellness and define retirement. The entire Think Tank at Financial Finesse helped provide research for a book written by Liz Davidson, the company's founder and CEO.
What Your Financial Advisor Isn't Telling You: The 10 Essential Truths You Need to Know About Your Money is an easy ​to understand guide that outlines important money management tips often overlooked by sales-oriented financial advisors. The release date may not be until January 5th but a pre-order can still be a meaningful stocking stuffer.
The book is helpful for those currently working with a financial advisor and anybody considering seeking professional guidance. The message is straightforward, we all have the ability to declare our own financial independence day and this step-by-step guide to building wealth and accompanying website should prove to be a helpful source of knowledge and empowerment.
The One-Page Financial Plan: A Simple Way To Be Smart About Your Money by Carl Richards is another book that simplifies the planning process into a one-page financial plan while focusing on positive behavior change rather than unnecessarily complex financial jargon. In the real ​world, enough obstacles exist on the path to financial independence. This type of no-nonsense approach to the financial planning process has a greater likelihood of success than complex plans that lack any follow through.
The Ultimate Financial Plan: Balancing Your Money and Life by Jim Stovall and Tim Maurer shares a message regarding the importance of balancing our money with unique life goals and values. The process of effectively integrating our money into our lives requires a comprehensive analysis and this book is a helpful resource guide.
Another book relevant for all generations, The New Retirementality: Planning Your Life and Living Your Dreams…At Any Age by Mitch Anthony, discusses ways to look at the word "retirement" in a different manner compared to how previous generations approached retirement.
This book encourages the reader to go beyond their retirement "number" and encourages them to think about their attitudes regarding retirement. I am big proponent of any financial planner who encourages others to stop making a living and start making a life. This book is a great read for people looking to redefine what retirement means in a challenging financial environment that has become increasingly difficult to navigate.
Make a charitable donation of money or time. This is a great option if the intended gift recipient seemingly has it all or is overly ambitious with their wish list. Make a donation to one of their favorite local charities or search Charity Navigator to find a fiscally responsible organization they might support. You can even give a gift card for microfinance loans through organizations like Kiva that allows the recipient to choose borrowers to support.
Invite a friend or family to volunteer together with you. Spending time helping others can help us all appreciate what we have rather than the things we do not possess.
Contribute to a 529 plan. The 529 College Savings Plan is an excellent vehicle to set aside funds for college that have the potential to grow tax-free if used to pay for qualified higher education expenses. As an account owner, you have complete control of the account so you can make sure your gift is used for its intended purpose. With student loan debt creating such significant obstacles for recent graduates the 529 plan is a worthy gift consideration.
Contribute to a Roth IRA. If you have a child or grandchild with earned income and they are not already contributing to a Roth IRA, you may contribute on their behalf. The annual contribution limit is 100% of earned income up to $5,500 per year for 2015 and 2016.
Be willing to share your time and financial knowledge. This could be a simple act such as offering free babysitting for friends so they can share important time together without feeling too much financial stress. If you feel confident in your own financial knowledge and well-being, it could mean offering to take a friend to lunch and providing support and encouragement. You could also schedule a financial independence "date" with your spouse and make those "let's get our financial act together" discussions fun and inspiring rather than boring, accusatory and blaming.
All of these gift ideas have a common theme – they all are related to the process of making financial life planning goals become a reality. Financial wellness is more than just a trendy buzzword; it is a true measure of our financial health. If you decide to try to help others improve their own sense of financial wellness you may actually be planting the seed for them to pay it forward and eventually empower them to be in a better position to help others.