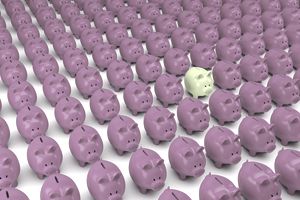 Time to open a bank account but you're not sure which bank to choose? It's an important choice – you don't want to go through this again, and switching banks is a pain. To choose the best bank for your needs, get familiar with the options available, and then pick an institution that fits you best.
What do you Need Today? In Five Years?
You probably have a reason for looking into bank accounts, and you'll want to get your immediate needs met.
For example, maybe you need a place to put your paycheck, or you're hoping to use a bank that charges lower fees than your current bank. That's fine and good, but zoom out and think about how your needs may change in the coming years. Keep those future needs in mind as you evaluate banks.
Things change, and it's hard to predict the future, so most people start by focusing on checking and savings accounts.
Rates and Fees
Pay close attention to the rates and fees as you shop for a bank: how much will you earn on savings, how much do you pay on loans, and how much do you pay for maintenance and transactions?
For checking and savings, low fees are especially important. A slightly different interest rate on savings isn't going to make or break you financially, but monthly maintenance fees and stiff overdraft penalties can make a serious dent in your account.
When it comes to earning interest on savings or certificates of deposit (CDs), even a difference of 1% APY might not be that impressive.
If you only have $3,000 in savings, that's a difference of $30 per year between banks. If one of those banks charges $10 per month just to keep your account open, the obvious choice is to go with whichever bank has lower fees.
When borrowing money, you don't even have to borrow from your bank. You can get a loan from a brand new credit union when you buy a car, for example (buying from a certain dealer might make you eligible to become a member of that credit union).
There are several good online lenders out there as well – they often charge less than local banks and credit unions. If you borrow to buy a house, a mortgage broker can (and should) shop among numerous lenders for you – and you don't have to be a customer at every potential bank.
Types of Banks
There are several types of "banks" you can use. Most of them offer similar products and services (especially if you're just looking for checking or savings accounts and a debit card for spending), but there are differences.
Big banks are the names you know. You'll see numerous branches on busy street corners in large cities, and you read about them in the news. These institutions have national (and multinational) operations.
Products and services available: almost anything you can imagine (and more)
Fees tend to be on the high side, but it's possible to get fees waived (with direct deposit, for example)
Rates on savings and CDs usually aren't the highest
Branch and ATM locations are numerous if you care about banking in person
Local banks operate in smaller geographic areas. They tend to have more of a community focus, and they're an important part of your local economy.
Products and services available: for most consumers, everything you need (large businesses and the ultra-wealthy may need to get certain services from other providers)
Fees tend to be reasonable, and fee waivers are often available
Rates on savings and CDs vary, but watch for advertised "specials"
Branch and ATM locations are available locally, but you may have to pay out-of-network fees if the bank doesn't participate in a national ATM network
Credit unions are not-for-profit organizations with a strong community focus. To open an account, you'll need to qualify and join as a "member," but this process is generally easier than you think.
Products and services available: for most consumers, everything you need (the smallest credit unions might offer slightly less, but you can always find checking and savings accounts)
Fees tend to be low, and it's easier to find free checking
Rates on savings and CDs are often higher than big banks, but lower than online banks
Online banks have established themselves as a solid option, and it's worth having an online-only account even if you don't use it regularly. That said, going 100% online with your money can be tricky – physical locations still serve a purpose
Products and services available: free checking and savings accounts are the main attraction, but other products may be available
Fees tend to be low – most accounts are free unless you bounce checks or request certain transactions (like wire transfers, for example)
Rates on savings and CDs are often higher than you can find anywhere else
Branch and ATM locations are nonexistent, but online banks either participate in robust nationwide networks or they reimburse ATM fees (up to certain limits)
All of the types of banks listed above can offer basic business checking accounts and other services.
Technology and Convenience
As you narrow down your list, look at important features that you'll actually use on a day-to-day basis. You don't want dealing with your bank to be a miserable experience.
Remote deposit: if you ever get paid with a physical check, the easiest way to deposit it is to snap a picture with your bank's app.
Bank to bank transfers: look for banks that offer free electronic transfers to other bank accounts. This is standard with most online banks, but brick-and-mortar banks can do it too. This makes it much easier to manage your money and change banks.
Texting and email alerts: we all get busy, and it's nice to get a heads up from your bank if something is happening in your account. You might also want a quick update on your bank balance without logging into your account. Banks with texting options and automatic alerts make banking easy.
ATM deposits: going to a branch during banking hours isn't always possible (or convenient). ATM deposits allow you to bank on your schedule, and even add funds to some online banks.
Bank hours: if you'll bank in person, are the hours suitable for your needs? Some banks and credit unions offer weekend and evening hours (at least at the drive-through).
A Word About Safety
Banks are supposed to be a safe place for your money. Ensure that any account you use is insured, preferably by the US Government:
If a bank or credit union fails, you should not lose any money as long as your deposits are below the maximum limits (currently $250,000 per depositor per institution, and it's possible to have more than $250,000 of "your" money covered at a bank).
Opening Accounts
Once you've chosen an account, it's time to go through the formalities of opening and funding it. Some institutions let you do everything online, and that's a quick and easy option if you're tech-savvy. If not, plan for a visit to the branch, and bring identification and an initial deposit (cash works, or you might write a check or make an electronic transfer).
If you're moving to a new bank, use a checklist to make sure nothing falls through the cracks. You don't want to miss payments or pay fees for any mistakes.
Multiple Accounts
There probably isn't a single best bank account out there. Different banks have different strengths. Online banks pay the most interest on your savings. Online lenders and credit unions are a great option for personal loans and auto loans. It's okay to have more than one bank account – it's wise to get the best features wherever you can find them. As long as you're not paying multiple fees to multiple banks, you can have as many bank accounts as you want.