For Food Gift Success Think Niche: Like Chocolate For Music Fans
Amazing What a Little Packaging Twist Can Do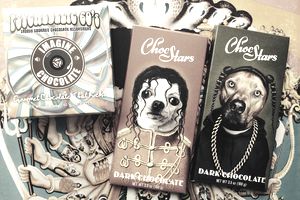 What comes to mind when you think of giftable chocolate brands? Elegant packaging, muted colors or maybe even crafty gift crates? 
When you're starting a food business, you can start out with a plan to either appeal to as many people as possible. Or, you can decide to focus in on a group of people to create products that also, perhaps, tie into your own interests or dietary needs.
Within one year, several candy businesses caught my eye as it turned out they were all targeted to the same type of consumer: music and entertainment lovers seeking fun gifts.
See how these three chocolate brands tapped into this niche rather than go the general route with their branding and packaging. 
Music-themed Chocolate Boxes
The team behind Imagine Chocolate decided to pair gourmet confections with music and Pop Culture. Their different chocolate boxes are themed mostly after timeless vintage rock (like Pink Floyd) and punk. 
Their concept turns a gift of waht otherwise might look like "any old" artisan confections into fun gifts that become a conversation piece. A Chocolate Club monthly subscription keeps the gifts (and revenue) coming. Rockin.
Seriously Wacky Musicians-Turned-Pets Chocolate Bars
Then there's the more casual chocolate gift...the kind of chocolate bars you'd want hanging around a coffee table when your friends come over. All for a hoot. ChocStars commissions original art for its "chocolate stars" bars, turning famous personalities (both real and fictional) into animal characters.
Michael Jackson and Snoop as real dogs, a rabbit as the Queen and a cat as Holly Go Lightly in Breakfast at Tiffany's. The list goes on as does the conversation.
I met the couple behind ChocStars and the higher-end, origin Chocolate and Love chocolate bars at the 2015 Winter Fancy Food Show.
Record Album Chocolate Lollipops
Leave it to an Etsy seller to mold chocolate into records-on-a-stick.
 Given the trend in albums coming back among the cool kids, this is a fun and simple way to create a niche party favor or gift.
Plenty of music-themed chocolate and candy molds are available online, making niche-themed foods simple for hobbyists and to get a home-based candy business started. 
Will Any of These Become Big Businesses? 
In working with food startups, I've noticed that when pursuing a narrowly focused food category or food theme, the key is to land big deals where you can supply on a mass scale.
For example, when selling thousands of food products for corporate gifts or private labeling the foods for sale to consumers who are fans of the brand or theme — for example, at a symphony hall or concert venue, in the case of music — you'll very likely move more merchandise than targeting a sales channel that is more general.