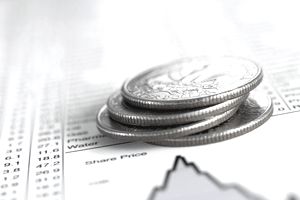 The cheapest index funds are usually the best to buy. Why? Because index funds all essentially do the same thing: They passively track a benchmark index. And since they essentially accomplish the same goal, it doesn't make sense to buy expensive index funds.
Think of buying a food staple like bread at a grocery store. If you're choosing between three different brands, and they all have the same exact ingredients, buy the cheapest one!
That's basically the same logic to follow when buying index funds: They have the same ingredients. So why pay more for the same thing when you can pay less?
It never makes sense to buy an index fund with a sales charge, which can come in the form of a front load (often 5% or more payed up front when buying shares) or a back load (payed when selling shares. Sales charges only make sense when you're getting valuable advice and top notch active management. With index funds, and with a little homework on your end, you don't need advice or active management. Therefore, always buy no-load funds!
So without further ado, here are 12 of the cheapest index funds, as measured by their expense ratios, broken into six different categories:
Cheapest S&P 500 Index Funds
S&P 500 index funds track the S&P 500 index, which consists of about 500 U.S. large company stock, as measured by market capitalization.
Here are two of the cheapest mutual funds tracking the S&P 500:
These are incredibly low expenses, especially when compared to some of the average expense ratios for mutual funds, which are typically more than ten times these expenses, often up to 1.50%.
Also compare these to the most famous index fund, Vanguard 500 Index (VFINX), which has an expense ratio of 0.16%.
Cheapest Large Growth Stock Index Funds
Large growth index funds usually track the Russell 1000 Growth index, the Nasdaq Composite or the Nasdaq-100. These are investing the largest U.S. company growth stocks by market capitalization. Therefore, with these funds, you'll get many of the same stocks as in S&P 500 index funds but these will be only growth stocks, which tend to be more aggressive (higher relative risk compared to other stocks but higher potential long-term returns):
Here are two of the cheapest mutual funds tracking a large cap growth U.S. stock index:
Both of these funds are highly rated, which means you get high quality for a low cost.
Cheapest Large Value Stock Index Funds
There aren't many stock index funds that track value stock indices but there are a few that are too expensive and there a few that are good and cheap.
Value stocks are often those that are underappreciated in the market and therefore selling at a discount. Mutual funds that pay dividends are often considered to be value funds.
Value stock index funds typically track the Russell 1000 Value index or the S&P 500 Value index. Here are two of the cheapest large value stock index funds:
Value funds can be good for investors looking for long-term growth or for investors looking for current income from their investments.
Cheapest Mid-Cap Stock Index Funds
As with large-cap index funds, investors can find mid-cap stock index funds that track a growth index, a value index or an index that blends the two styles.
Here we'll highlight mid-cap stock mutual funds that track indices, such as the S&P MidCap 400 index or the Russell Mid Cap Index, which will include a blend of both growth and value.
Here are two of the cheapest mutual funds tracking mid-cap stock indices:
Mid-cap stocks typically carry more market risk than large-cap stocks but they tend to perform better in the long run. And mid-caps generally have less market risk than that of small-cap stocks but can perform just as well. Therefore mid-caps fall in a "sweet spot" of investing that can be appropriate for long-term investors willing to take more risk for higher potential returns.
Cheapest Small Cap Stock Index Funds
Like we did with mid-cap index funds, we'll highlight small-cap stock index funds that track an index that blends both the growth and value styles. These index funds will track small-cap indices like the Russell 2000 Index or the S&P SmallCap 600 index.
Here are two of the cheapest mutual funds tracking small-cap stock indices:
Small-cap stocks are riskier than large- and mid-cap stocks but they can deliver superior returns in the long run, especially if you can keep expenses low.
Cheapest International Stock Index Funds
International stock index funds usually track the MSCI EAFE index or the MSCI ACWI index, both of which consist of stocks of companies outside the U.S.
Here are two of the cheapest mutual funds tracking foreign stock indices:
International stock index funds are a smart and convenient way to capture the entire market outside of the United States market. A diversified portfolio of mutual funds will usually include international stocks.
Cheapest Bond Index Funds
There are many different kinds of bond index funds but the best and most common are those that capture the entire U.S. bond market. These index funds track the Barclays Capital Aggregate US Bond Index, which includes over 3,000 bonds.
Here are the cheapest mutual funds tracking the BarCap Aggregate:
For most investors, one cheap total bond market index is sufficient to include in a portfolio of mutual funds.
How to Buy the Cheapest of the Cheap Index Funds
Some of the best no-load mutual fund companies, such as Vanguard Investments and Fidelity Investments, offer share classes of index funds with lower expense ratios when you can make a high initial investment.
For example, as I mentioned previously, the Vanguard 500 Index (VFINX) fund didn't make our list of cheapest index funds because its expense ratio of 0.16% was higher than our other two listings.
But if you can reach the initial investment requirement of $10,000 for their "Admiral" share class (ticker: VFIAX), you get the cheapest S&P 500 index fund with an expense ratio of 0.05%.
Fractional investing is another lower cost option. 
Disclaimer: The information on this site is provided for discussion purposes only, and should not be misconstrued as investment advice. Under no circumstances does this information represent a recommendation to buy or sell securities.